Mystery of Madonna and Child Painting Solved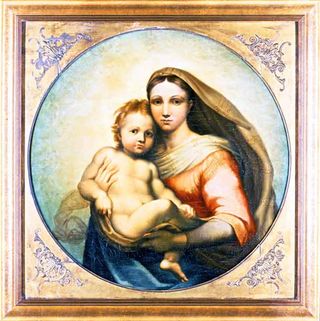 (Image credit: The de Brecy Trust)
Chemists have solved a 20-year mystery surrounding the date of a Madonna and Child painting, the "de Brecy Tondo," painted by an as-yet unidentified artist.
However, a debate continues as to who painted the "de Brecy Tondo," which looks suspiciously similar to the "Sistine Madonna," painted by the renowned Italian Renaissance artist Raphael.
Howell Edwards, a specialist in Raman spectroscopy at the University of Bradford in the United Kingdom, used laser-based technology to detect yellow pigments and glue typical of the Renaissance period, which dates the painting between the 14th and 16th centuries.
His findings suggest that the "de Brecy Tondo" and the "Sistine Madonna" were painted during the same time period.
"Prior to Professor Edwards' work, there has been no consensus amongst art historians as to the age of the painting," said Timothy Benoy, secretary and trustee of the de Brecy Trust, and coauthor of a report on the new finding, ?published in the February issue of the journal Analytical and Bioanalytical Chemistry.
Edwards found evidence of massicot, a lead-based yellow pigment used by artists prior to the introduction of a new pigment called Naples Yellow in the 1700s. Massicot, also found in Vermeer's 1670 painting "Young Lady Seated at the Virginals," has been used to date previous works of art.?
As well, the laser research detected organic residues characteristic of a vegetable- or starch-based glue, typical of the Renaissance period.
During the past 24 years, 8 laboratories around the world have also scientifically examined the "Tondo" to try and determine when it was painted and by whom. In 2003, researchers in Belgium discovered that the painting appears to be the first in which an artist used a medieval blue dye called turnsole.
"Analytical information from several techniques and laboratories support the assignment of this painting to the Renaissance," Edwards told LiveScience.
Several art historians have assumed that the similarities between the "Sistine Madonna" and the "Tondo" show that Raphael painted both artworks. Although the artist of the "Tondo" still cannot be verified, the scientific evidence described by Edwards and Benoy help place the painting within Raphael's reach.
Gallery: Microscopic Images as Art
Scan Hints Mona Lisa Pregnant for Pose
All About History, American History, World History
Stay up to date on the latest science news by signing up for our Essentials newsletter.
Corey Binns lives in Northern California and writes about science, health, parenting, and social change. In addition to writing for Live Science, she's contributed to publications including Popular Science, TODAY.com, Scholastic, and the Stanford Social Innovation Review as well as others. She's also produced stories for NPR's Science Friday and Sundance Channel. She studied biology at Brown University and earned a Master's degree in science journalism from NYU. The Association of Health Care Journalists named her a Centers for Disease Control and Prevention Health Journalism Fellow in 2009. She has chased tornadoes and lived to tell the tale.