Stealthy Iris Scanner in the Works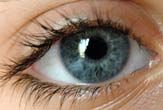 A public iris scanning device has been proposed in a patent from Samoff Labs in New Jersey. The device is able to scan the iris of the eye without the knowledge or consent of the person being scanned. The device uses multiple cameras, and then combines images to create a single scan (see diagram). Iris recognition is a biometric identification system that requires a high-resolution picture of the irides of the subject's eye. Pattern recognition software is then used to match that picture against future iris scans. Iris scans are considered highly accurate; current iris recognition algorithms have an incredibly low false match rate. Good quality scans result in a "false match" less than one time per one hundred billion (this system has been used with excellent results in the United Arab Emirates). The significant advantage of the newly proposed system is that it allows iris scans to be taken without the knowledge or participation of the subject. Read the relevant quote from the patent application:
The availability of a public iris scanning device could greatly alter the nature of public spaces. In the 2002 movie Minority Report, filmmaker Steven Spielberg shows Tom Cruise's character walking through a mall. As he does so, public iris scanning devices repeatedly identify him, and then target him for personalized advertisements. At one point in the film, a "false match" is caused by surgery - Cruise's character has both of his eyes replaced (see clip). Read more about ideas and inventions from Minority Report, including the public iris scanning device. See also covert iris scanners. Thanks to reader Adi for the tip on this item. (This Science Fiction in the News story used with permission from Technovelgy.com - where science meets fiction.)
Image Gallery: Cutting Edge Robots
The Weirdest Science Stories of 2006
Stay up to date on the latest science news by signing up for our Essentials newsletter.
Bill Christensen catalogues the inventions, technology and ideas of science fiction writers at his website, Technovelgy. He is a contributor to Live Science.