A New Wave: Scientists Write on Water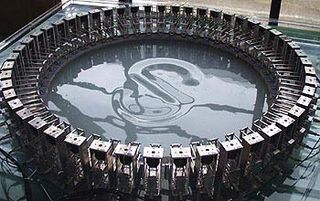 (Image credit: FujiSankei Business)
A new technology allows researchers to write on water.
The AMOEBA (Advanced Multiple Organized Experimental Basin), a circular tank created by Mitsui Engineering at their Akishima laboratory, is able form letters with standing waves.
This remarkable display device consists of fifty water-wave generators surrounding a cylindrical tank 5 feet wide and a foot deep. The wave generators move vertically to produce cylindrical waves. These "pixels" are about 4 inches in diameter and 1.5 inches in height; these form lines and shapes.
The AMOEBA device can form all of the roman alphabet, as well as some kanji characters.
Each letter takes about fifteen seconds to produce; Akishima Labs expects to sell the device to amusement parks in a package that combines acoustics, lighting and fountain technology.
This device is also a good first step to the watery alien creations in the 1989 movie "Abyss," which combined futuristic underwater technology with alien first encounter. The great special effects were groundbreaking; CGI effects like the ability to create irreguar objects and soft-edged objects were perfected. Convincing integration of CGI with the live action sequence was also achieved.
If Akishima Labs maintains steady progress, it may be possible to achieve alien effects in fountains or other media.
If you are interested in unusual displays, be sure to check out the Infernoptix Digital Pyrotechnics Matrix Display, a combination backyard barbeque grill and computer display, and the Brain Port Tongue Vision In Use By Navy SEALs. Story from Fujisankei Business (Japanese) via Edo; thanks to Adi for pointing out the Abyss reference.
(This Science Fiction in the News story used with permission from Technovelgy.com - where science meets fiction.)
The Most Popular Myths in Science
Gallery: Monster Waves
Stay up to date on the latest science news by signing up for our Essentials newsletter.
Bill Christensen catalogues the inventions, technology and ideas of science fiction writers at his website, Technovelgy. He is a contributor to Live Science.