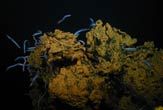 (Image credit: H. Staudigel, Scripps Institution of Oceanography)
An undersea volcano in the Pacific is growing from its summit and could breach the ocean surface within a few decades, a new study reveals.
In the meantime, it is creating a thriving environment for some sea creatures but a death trap for others.
Researchers used submersible vehicles and other technology to explore Vailulu'u Seamount, an active volcano lying off the coast of the Samoan archipelago. They found that the volcano had sprouted a new 1,000-foot cone at its summit since it was last explored 5 year ago.
Toothpaste and pillows
Dubbed Nafanua, the cone is made from large pillow lava, a type of rock that forms when hot magma spewed by underwater volcanoes or cracks in the Earth comes into contact with water and congeals into large blobs, or "pillows."
"Imagine a replica volcano on your tabletop and somebody squirting toothpaste out from underneath," said study team member Hubert Staudigel from the Scripps Institution of Oceanography in California.
"If you keep squirting toothpaste from this one place, the squirts will overlie one another. Depending on their viscosity, the squirts will have a very flat slope or just stay in place and pile on top of each other," Staudigel told LiveScience.
Moat of death
Nafanua, which is still about 2,300 feet below sea level, is creating new niches for undersea creatures as it creeps slowly towards the ocean surface. Near its summit, eels swarm around warm hydrothermal vents and feed on shrimp carried their way by volcanic currents.
The inside of the Nafanua, however, is deadly. The same currents that provide the eels with food also deposit sea creatures into a cavity of turbid and toxic waters, creating what the researchers call a "moat of death." The bodies of fish, squid and crustaceans rot within this moat and bright red bristle worms feed on the bacteria that slough off their carcasses.
The finding was detailed in this week's issue of the journal for the Proceedings of the National Academy of Sciences.
Image Gallery: Underwater Explorers
Stay up to date on the latest science news by signing up for our Essentials newsletter.