Effort to Raise Italian Wreck Begins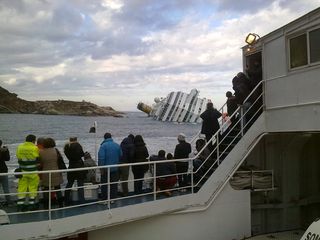 (Image credit: © Lupoalb68 | Dreamstime.com)
The Costa Concordia, the stricken cruise liner that capsized nearly two years ago on the rocky shore of the Tuscan island of Giglio killing 32 people, is being slowly raised from the waters of the Tyrrhenian sea revealing the dark, slimy legacy of her underwater past.
Raising the Concordia: Watch It Live
Two hours after the beginning of the operations, a portion of the submerged hull is clearly distinguishable by a dark colored strip which emerges in strong contrast with the exposed part of the hull.
One of the largest, most expensive and daunting salvage operations in history, the refloating of the Concordia began Monday morning, after a three-hour delay caused by a fierce overnight lightning storm.
PHOTOS: Costa Concordia's Final Night on Giglio's Shore
The $800-million operation, called parbuckling, aims to upright the 114,500-ton ship and anchor her on large underwater platforms. The operation is being carried out by engineers of the U.S. Titan Salvage and Italian Micoperi companies who are aboard a barge near the Concordia's bow.
The first phase, which was regarded as one of the most delicate steps of the entire recovery plan, consisted of dislodging the hull from the rock onto which it has molded itself.
"We can now say the hull has been freed from the rocks. It has been a slow, smooth process," project manager Sergio Girotto said.
Steel cables tightened by hydraulic jacks began exerting a force of 2,000 tons on the ship's rusting hull.
"We raised the pulling force through several steps. The hull detached itself from the rocks when a force of about 6,000 tons was applied," Girotto said.
PHOTOS: The Concordia: Recounting a Disaster
The Concordia is now rotated by 3 degrees. The operation requires a 65-degree rotation. From now on, technicians expect that the rotation can proceed with a gradually decreasing pulling force.
Franco Gabrielli, head of the civil protection agency added that underwater cameras show a large deformations on the starboard side of the ship.
"This is another confirmation that the parbuckling had to be done as soon as possible. We are keeping our eyes open as issues can occur even at the end of the operation, but so far we can say that our models and projects have proved to match the reality," Gabrielli said.
PHOTOS: Heroes of the Concordia
Things are looking good also from an environmental point of view.
"The water is clear at the moment. We saw no significant spills, but it's too early to say. We have just begun," Gabrielli said.
This article was provided by Discovery News.
Stay up to date on the latest science news by signing up for our Essentials newsletter.