Spicy Solution? Cinnamon May Help Diabetes Patients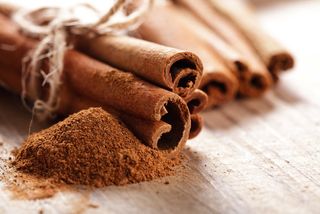 (Image credit: <a href='http://www.shutterstock.com/pic.mhtml?id=92037011&src=id'>Cinnamon photo </a> via Shutterstock)
Cinnamon might improve not only the taste of apple pie and oatmeal but also the health of people with diabetes, a new review study suggests.
Researchers found that people with type 2 diabetes who took cinnamon supplements had lower fasting plasma glucose levels compared with people who didn't take cinnamon.
The review also found that cinnamon benefited several important measures of heart health: It reduced total cholesterol, LDL "bad" cholesterol and triglyceride levels, and increased HDL "good" cholesterol.
In the review, researchers looked at data collected from 10 randomized control led trials involving 543 patients with type 2 diabetes. These studies compared people who took cinnamon in a pill form, in doses ranging from 120 milligrams to 6 grams a day, for a period of four to 18 weeks, to people who did not take cinnamon.
The most popular form of the supplement, which was used in six out of 10 trials, was Cinnamomum cassia, which participants were advised to take before, during or after their meals. [9 Healthy Habits You Can Do in 1 Minute (Or Less)]
"When we combined the results of all the trials, we found that in patients with type 2 diabetes, there was a benefit on blood glucose and cholesterol levels," said study researcher Olivia Phung, an assistant professor of pharmacy practice at Western University of Health Sciences in Pomona, Calif.
The study is published online today (Sept. 9) in the journal The Annals of Family Medicine.
Better glucose control
Previous studies of cinnamon's effect on blood sugar have shown mixed results.
In fact, when these same researchers published a review study of the supplement in 2008, they found it had no effect on blood sugar or cholesterol levels. But in their latest analysis, they included data from the most recent trials of cinnamon in diabetes patients.
Preliminary studies have suggested that the compound in cinnamon that's responsible for its health effects is a substance known as cinnamaldehyde. Although it's not clear how cinnamon may work to improve blood sugar, researchers suspect this substance may stimulate the release and effect of insulin.
"By enhancing insulin activity, it's assumed there'd be better control of blood glucose," Phung told LiveScience.
In the study, people who took cinnamon supplements — usually in addition to their diabetes medication — lowered their fasting glucose levels by nearly 25 milligrams/deciliter. This is less than the reduction people typically achieve by taking the diabetes drug metformin (58 mg/dL), but slightly better than the reductions seen in patients who take some of the newer drugs, such as sitagliptin (16 to 21 mg/dL), the researchers said.
More research needed
The researchers said they don't know the exact dose of cinnamon that may be helpful for people with type 2 diabetes, or the length of time or frequency the supplement should be taken. And it's still unclear which patients may benefit the most from taking the cinnamon, or exactly how cinnamon might fit best into diabetes treatment options.
Phung said more research is needed to determine whether there is a true cause-and-effect relationship between cinnamon intake and improved diabetes control, or if the results found in this review study were just an association seen when the findings from a bunch of smaller studies were combined.
However, she said that based on this current analysis, it looks like cinnamon may be useful for diabetes.
Nonetheless, "It's not going to replace your diabetes medications," Phung said, "so if you're thinking about taking cinnamon [for diabetes control], definitely talk to your doctor or a pharmacist about it."
Follow LiveScience @livescience, Facebook & Google+. Original article on LiveScience.
Stay up to date on the latest science news by signing up for our Essentials newsletter.
Cari Nierenberg has been writing about health and wellness topics for online news outlets and print publications for more than two decades. Her work has been published by Live Science, The Washington Post, WebMD, Scientific American, among others. She has a Bachelor of Science degree in nutrition from Cornell University and a Master of Science degree in Nutrition and Communication from Boston University.