With Fresh Blood, Inbred Florida Panthers Rebound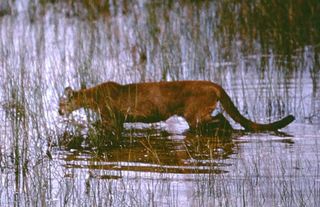 A controversial breeding program has improved the genetic diversity of inbred Florida panthers and the endangered animals are on the rebound, scientists announced today.
Yet while the hybrid cats are spreading their range, they're not out of the woods yet.
As few as 30 wild panthers roamed the Florida Everglades in the early 1990s. Abnormalities such as low sperm counts and heart defects were becoming common, studies found, and the kittens had low survival rates.
In 1995, researchers outfitted some female Texas panthers with radio collars and introduced them into four sections of the Florida Everglades. Some Florida panthers were also tagged.
Researchers monitored the cats and kittens and found that the hybrids had better survival rates, presumably because they were more genetically diverse. By 2003, three of the Texas panthers were still alive, and they were removed -- scientists figured enough fresh blood had been injected into the Florida population and they wanted to keep outside genetic exposure to a minimum.
Today, there are at least 87 wild panthers in Florida.
"A lot of scientists said this kind of genetic rescue would not work," said project leader Stuart Pimm of Duke University. "They said if a species is rare, and its range is restricted, just adding individuals from the outside is not going to work. Some thought it would be a waste of time, a waste of money."
Even Pimm was skeptical. He expressed his doubts about such a scheme in a 1991 book.
"I was wrong," he said today.
"More than three times as many hybrid kittens appear to reach adulthood as do purebred ones," Pimm and his colleagues write in a paper that will be published early next year in the British journal Animal Conservation.
And the hybrids are on the move.
The purebred panthers rarely ventured beyond protected areas north of interstate 75 and west of State Highway 29. Hybrid offspring have moved south and east into new sections of the Everglades National Park and Big Cypress National Preserve. They're pushing into places that are less hospitable, but they're doing so with success, the scientists said.
Given the importance of the project, the researchers said, they've made the full text of the article available to scientists now.
The federal government has decided that the hybrids will be called Florida panthers for purposes of determining their endangered species status.
Questions remain. While female hybrids appear to be outliving the natives, the reverse is true with males. The scientists speculate that hybrid males are killed by older purebreds. Others move into areas with "fewer cats but other dangers from human settlement," Pimm said. "Young males get into trouble whatever species they are."
Stay up to date on the latest science news by signing up for our Essentials newsletter.
Robert is an independent health and science journalist and writer based in Phoenix, Arizona. He is a former editor-in-chief of Live Science with over 20 years of experience as a reporter and editor. He has worked on websites such as Space.com and Tom's Guide, and is a contributor on Medium, covering how we age and how to optimize the mind and body through time. He has a journalism degree from Humboldt State University in California.