What's a Brain Worth? About $1,500 and a Fight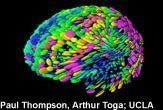 BETHESDA, Md. (AP) _ A company that collects brains for medical research says it did nothing wrong in paying a six-figure sum to a onetime Maine state employee who supplied dozens of specimens.
But at least one couple has sued and authorities have launched an investigation.
"The institute firmly believes that it's always acted ethically and in good faith in all instances,'' lawyer Byrne Decker, who represents the Stanley Medical Research Institute, told The (Baltimore) Sun in a Friday story.
Federal law prohibits selling human bodies or organs, but fees often are paid for costs incurred by funeral homes and coroners who provide specimens.
The institute, in Bethesda, paid Matthew Cyr about $150,000 between 1999 and 2003 when he supplied 99 brains for the institute. At the time, Cyr worked as a funeral home inspector and had a contract to handle after-hours calls for the medical examiner's office.
Officials launched an investigation after Lorraine and Frank Gagnon brought a lawsuit last April alleging that the entire brain of their 28-year-old son, A.J., was taken when he died in April 2003 of a drug overdose. Lorraine Gagnon said she had consented only to the removal of a small sample of brain tissue.
The Maine Sunday Telegram of Portland has since reported that 31 of the 99 cases in which brains were provided lacked written consent forms to prove that family members authorized the donations.
Cyr, 35, who has left his funeral home inspector job and now works as a police officer in Bucksport, Maine, has declined to comment on his work.
Maine officials have cited privacy rights and state law in not identifying people whose brains were sent to the Maryland institute.
The Gagnons agreed this week to settle their lawsuit against the institute. Lawyers have identified two other families who plan to file similar lawsuits.
The Stanley Institute says it has the world's largest collection of brain tissue from people with schizophrenia and manic depressive illnesses.
Its brain bank has distributed specimens free to more than 60 research laboratories worldwide.
Brain Scans Might Be Better Lie Detectors
Chronic Pain Shrinks People's Brains
Stay up to date on the latest science news by signing up for our Essentials newsletter.