First Methuselah Mouse Rejuvenation 'M Prize' Awarded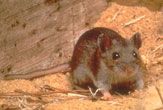 The first Methuselah Foundation Rejuvenation 'M Prize" for Reversing Aging in Middle-Aged Mice Using Techniques Applicable to Human Beings has been awarded to Dr. Stephen Spindler, who lead an experiment to make mice biologically younger while extending their lifespans.
The research was first reported in the Proceedings of the National Academy of science. Dr. Spindler demonstrated that middle-aged mice could achieve an average 15% longer life, accompanied by significant reductions in deaths from cancer. DNA microarray analysis showed that the mice actually became younger. The results were achieved using calorie restriction in a group of mice starting at age 19 months.
The best news at all for those of us who cannot see imposing a calorie restriction diet on ourselves (even if caged) can take heart from this exerpt from Dr. Spindler's paper:
The Methuselah Foundation bears some striking similarities to the Ansari XPrize foundation, which recently awarded the first XPrize to SpaceShipOne.
Science fiction writers have already blazed the path when it comes to setting up foundations for longevity research. Perhaps the most famous early example is that of the Howard Families, from Robert Heinlein's 1941 novel Methuselah's Children. In the story, the Howard Foundation is started in the mid-1800's by Ira Howard who died at 48 - of old age. He gave his life's fortune as a bequest to found an organization that would seek to lengthen the span of human life. The best way at that time was to make use of basic breeding principles to encourage marriages between people with healthy vigorous grandparents. Several hundred years (and a dozen or so generations) later, the descendants of the Howard Families typically lived to 120+ years of age.
This story has many examples of devices that have now come to pass (like the traffic control camera, a machine that searches for news based on your input like google news, and the Joy-boat junior that a private citizen can ride into orbit), so why not longevity?
If you are interested longevity research based on genetic heritage, read about Yoda - The World's Oldest Mouse. Yoda's lifespan was achieved without calorie restriction - the most common method of achieving longevity in mice and other mammals.
Read more at the Scientist Wins the First Methuselah Foundation Rejuvenation "M Prize" for Reversing Aging in Middle-Aged Mice Using Techniques Applicable to Human Beings press release. Dr. Spindler's results are summarized in this abstract.
(This Science Fiction in the News story used with permission from Technovelgy.com - where science meets fiction.)
Stay up to date on the latest science news by signing up for our Essentials newsletter.
Bill Christensen catalogues the inventions, technology and ideas of science fiction writers at his website, Technovelgy. He is a contributor to Live Science.