Sizing Up Meals: Kids Eat More Using Adult Plates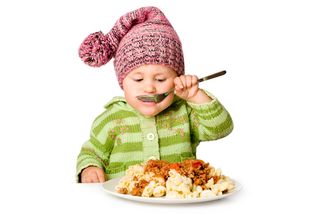 (Image credit: <a href='http://www.shutterstock.com/pic.mhtml?id=86434777'>Child eating photo</a> via Shutterstock )
The size of a child's plate may affect how much food they eat, according to a new study.
First-graders in the study served themselves more food, and ate almost 50 percent more calories, when they were given adult-size plates, compared with when they were given kid-size plates.
"These ?ndings provide 'proof of concept' for a role of dishware size in appetite regulation in children," the researchers wrote in their study, published today (April 8) in the journal Pediatrics.
Previous studies have shown that children eat more when they are served more, and also that adults will eat more food when dishes are larger. The researchers wondered whether using larger plates and bowls would result in children serving themselves more and therefore eating more food.
Children in the study were randomized to use either child-size dishes (8-ounce bowls and plates that were 7.25 inches in diameter) or adult-size dishes (16-ounce bowls and 10.25-inch plates). The kids helped themselves to lunch in a buffet-style line; on different days, pasta with meat sauce and chicken nuggets were available, while fruit and vegetables were always served.
Results showed the food kids served themselves contained 90 calories more when they used the adult-size dishes, compared with using the smaller dishes. The difference was even greater — with kids serving themselves 104 more calories — when they liked the food available that day.
The researchers also found that when the kids were using the bigger dishes, they ate more, consuming 0.43 extra calories for every extra calorie they put on their plate.
The only food that the kids did not take more of when using the larger dishes was, perhaps unsurprisingly, vegetables.
Children's BMI did not influence whether they took and ate more food when they used the larger dishes. "The effects are not limited to heavier children," the researchers wrote.
Using smaller dishware may be a straightforward way to promote age-appropriate portion sizes, they said.
In general, allowing children to serve themselves helps develop their social and motor skills, as well as their autonomy, the researchers wrote.
Pass it on: Adult-size dishes lured kids into eating more.
Follow Karen Rowan @karenjrowan. Follow MyHealthNewsDaily @MyHealth_MHND, Facebook & Google+.
Stay up to date on the latest science news by signing up for our Essentials newsletter.
Karen came to LiveScience in 2010, after writing for Discover and Popular Mechanics magazines, and working as a correspondent for the Journal of the National Cancer Institute. She holds an M.S. degree in science and medical journalism from Boston University, as well as an M.S. in cellular biology from Northeastern Illinois University. Prior to becoming a journalist, Karen taught science at Adlai E. Stevenson High School, in Lincolnshire, Ill. for eight years.