Is Hubble Worth the Upgrade Mission's Risk and Cost?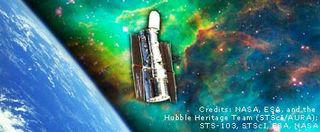 Find full mission coverage on our sister site, SPACE.com. Vote below.
***
Years ago, you could walk into any bar and ask the crowd to name a telescope, and they'd likely respond with a Cheers-like-greeting-to-Norm, "Hubble!" Not sure why you'd want to do that, but if you want to try it today, it'll still work. No telescope has ever engaged the public imagination so effectively.
After an eye operation to fix its blurred vision in 1993, Hubble has been sending back gorgeous, scientifically priceless images that have become NASA's best publicity, the most tangible and colorful justification for a space agency that spends billions on less glamorous endeavors such as circling the Earth for decades in shuttles and the space station.
Over the years, from development to launch to repair missions, Hubble has cost around $10 billion.
If all goes well Monday at 2:01 p.m. ET, astronauts will launch aboard the space shuttle Atlantis on a risky mission loaded with spacewalks to give Hubble one last grand upgrade at a cost of about $1.1 billion.
The stakes are high. Because of Hubble's altitude, if Atlantis is irreparably damaged during flight, the crew won't be able to get to the International Space Station. A second shuttle, Endeavour, is also ready to launch in the unlikely event a rescue is needed.
No mission has been as thoroughly planned, Hubble scientists say.
If it succeeds, Hubble will be more powerful than ever. Astronomers expect it to see deeper into the universe, revealing new secrets from near the beginning of time. If the mission fails, Hubble will soon be a big pile of space junk.
Did You Know?
About This Mission:
Robert Roy Britt is the Editorial Director of Imaginova. In this column, The Water Cooler, he looks at what people are talking about in the world of science and beyond.
Stay up to date on the latest science news by signing up for our Essentials newsletter.
Robert is an independent health and science journalist and writer based in Phoenix, Arizona. He is a former editor-in-chief of Live Science with over 20 years of experience as a reporter and editor. He has worked on websites such as Space.com and Tom's Guide, and is a contributor on Medium, covering how we age and how to optimize the mind and body through time. He has a journalism degree from Humboldt State University in California.