UK Beach Quality Plummets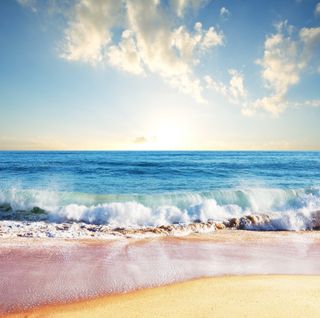 (Image credit: <a href="http://www.shutterstock.com/gallery-62698p1.html">Galyna Andrushko</a> | <a href="http://www.shutterstock.com">Shutterstock</a>)
As Memorial Day weekend sees people in the United States celebrating the opening of beach season, data from a European Environment Agency (EEA) report serves as a warning of how wild weather can affect water safety.
The United Kingdom's beach water quality plummeted in 2012, likely because a record-setting deluge of rain last spring triggered sewage overflows.
Data released by the European Environment Agency on Tuesday (May 21) showed the number of "excellent" beaches in England, Scotland and Ireland — those beaches that meet certain standards for intestinal bacteria and E. coli — plummeted by a quarter in just one year.
In 2012, excellent beaches stood at just 58.2 percent, down from 82.8 percent in 2011. Further, the United Kingdom's compliance rate with bathing water health standards was among the lowest in the European Union. [Stunning Sands Gallery: A Rainbow of Beaches]
Overwhelming sewage infrastructure
Many of the 629 "bathing waters" identified across the United Kingdom suffered as rainfall deluged the islands between May and June.
According to the U.K.'s environment agency, rainfall ranged between 11 and 17 inches (28 to 43 centimeters) in those three months. Adding to the problem, some of the infrastructure near U.K. beaches needs to be upgraded due to disrepair and capacity issues.
"It was particularly [bad] because of these overflows of sewers," said Peter Kristensen, EEA's project manager of integrated water assessments, in an interview with LiveScience.
"These heavy rainfalls overflow the combined sewers of connected houses and, in some cases, also [overwhelm] drains from farms where water can wash out into streams," he said.
There are projects underway to address this flooding problem, however. For example, Bloomberg News recently reported that London plans to add a "super sewer" to its network, which was first built in 1858 after a "Great Stink" overwhelmed the city. Construction will start in July and is expected to finish by 2017.
Standards rise across Europe
For the European bathing quality report, scientists examined more than 22,000 waters suitable for bathing across 18 European Union member states as well as Croatia. The report has been generated annually for about two decades, but keeps expanding as new members are added to the union, Kristensen said.
While the United Kingdom's water quality suffered, beaches across Europe saw an overall rise in quality. The EU average for beaches meeting standards was 78.3 percent, but 10 countries — more than last year — exceeded the standard. Cyprus and Luxembourg tied for top spot at 100 percent of beaches in compliance.
Kristensen said it is difficult to generalize why there is an overall rise in quality across Europe, though he noted several countries have emphasized beach cleanups to attract tourists.
Measures to improve quality can range from simple ones, such as public education campaigns telling people not to walk their dogs along the beach, to upgrading infrastructure to accommodate an expanding population and the wetter weather that is coming due to climate change and other factors.
Follow Elizabeth Howell @howellspace, or LiveScience @livescience, Facebook & Google+. Original article on LiveScience.com.
Stay up to date on the latest science news by signing up for our Essentials newsletter.
Elizabeth Howell is a regular contributor to Live Science and Space.com, along with several other science publications. She is one of a handful of Canadian reporters who specializes in space reporting. Elizabeth has a Bachelor of Journalism, Science Concentration at Carleton University (Canada) and an M.Sc. Space Studies (distance) at the University of North Dakota. Elizabeth became a full-time freelancer after earning her M.Sc. in 2012. She reported on three space shuttle launches in person and once spent two weeks in an isolated Utah facility pretending to be a Martian.