Why Is the Mint Julep the Official Drink of the Kentucky Derby?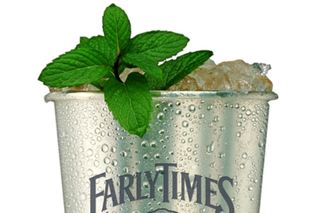 (Image credit: Brown-Forman Corporation | Early Times)
The mint julep has been the official cocktail of the Kentucky Derby for more than 70 years. In fact, Early Times, the official liquor brand for making all mint juleps served at the Churchill Downs racetrack, has trademarked the title. Which is somewhat ironic, given that the drink is traditionally made with bourbon, and Early Times is not technically bourbon.
A mint julep is traditionally made with bourbon , mint, sugar, and water and is served in a silver or pewter cup. The drink is believed to have originated in Louisiana during the 18th century, although its exact origin remains unknown. The mint julep recipe spread and became a staple drink throughout the South, and was especially popular in Kentucky, where 95 percent of the world's bourbon -- America's native spirit -- is produced, according to the Kentucky Distillers' Association. This earned it the title of the official drink of the Kentucky Derby in 1938.
Kentucky whiskeys like Early Times, while not bourbon, are a suitable substitute in a mint julep. Bourbon is a type of whiskey that meets several specific distilling requirements; most whiskeys created in Kentucky and the rest of the U.S., however, meet several of these requirements and taste very similar to bourbon. [What's the Difference Between Bourbon and Whiskey ]
Early Times has been the official whiskey of the Kentucky Derby since 1987, when the liquor's parent company, the Brown-Forman Corporation, signed an exclusive contract with Churchill Downs. The contract states that Brown-Forman Corporation's Early Times mint julep cocktail is the "official drink of the Kentucky Derby." [Why Do Ladies Wear Wild Hats to the Kentucky Derby? ]
Although Early Times Kentucky Whiskey mint juleps are the main drinks sold at the Kentucky Derby -- about 120,000 of them are served at Churchill Downs over the two-day period of the Kentucky Oaks and the Kentucky Derby -- juleps with bourbon were allowed to be sold at the Churchill Downs racetrack in 2006. As part of its marketing agreement with Brown-Forman, Churchill Downs designated Early Times' sister brand, Kentucky bourbon company Woodford Reserve, as the "official bourbon" of the derby.
Extra-premium custom-made mint juleps made with Woodford Reserve bourbon are sold for $1,000 each at the derby. Made using mint imported from Ireland, ice from the Bavarian Alps and sugar from Australia, the bourbon mint juleps are served in gold-plated cups designed by jeweler Tiffany & Co. As for the outrageous price tag, proceeds from its sales go to charitable causes for retired race horses .
Follow Remy Melina on Twitter @RemyMelina
Stay up to date on the latest science news by signing up for our Essentials newsletter.
Remy Melina was a staff writer for Live Science from 2010 to 2012. She holds a bachelor's degree in Communication from Hofstra University where she graduated with honors.