What Animal Is the Fastest Swimmer?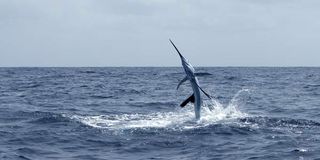 (Image credit: Lunamarina | Dreamstime)
Blue to gray in color and reaching up to 10 feet (3.05 meters) in length and 220 pounds (99.8 kilograms) in weight, the sailfish is considered the fastest marine creature. These streamlined beasts have been clocked at 68 miles per hour (30.4 meters per second), which, to be fair to the other fish in the sea, includes the sailfish's leaps into the air, during which it moves faster than it does in the water.
Think you could out-swim a sailfish? If you were to put this speedy fish in a pool to swim a 200-meter race, he could do it in less than 10 seconds. For comparison, Olympic gold-medalist Michael Phelps swims the 200-meter freestyle in about 1.42 minutes, which translates to 4.7 miles per hour (2.1 meters per second).
If you exclude leaping, the killer whale would be the speediest fish, clocking in at 34.5 miles per hour (15.4 meters per second), according to the ReefQuest Centre for Shark Research. This giant among sea creatures could swim the 200-meters in about 13 seconds.
Other quick swimmers include the common dolphin with a maximum speed of 23.6 miles per hour (10.6 meters per second), and the leatherback turtle at 22 miles per hour (9.8 meters per second).
Originally published on Live Science.
Stay up to date on the latest science news by signing up for our Essentials newsletter.
Michelle writes about technology and chemistry for Live Science. She has a Bachelor of Science in Chemistry from the Salisbury University, a Bachelor of Chemical Engineering from the University of Delaware and a degree in Science Journalism from New York University. She is an active Muay Thai kickboxer at Five Points Academy and loves exploring NYC with friends.