Why Do We Have Belly Buttons?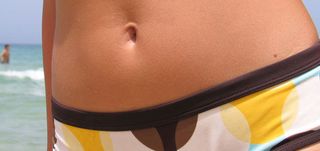 (Image credit: sxc.he)
Belly buttons aren't just for collecting lint.
When a fetus floats inside a mother's womb, its belly button looks more like a buttonhole than a button. The hole connects a fetus to an umbilical cord. The cord funnels nutrients and oxygen from the mother to the fetus. It also carries waste away from the fetus.
Once a baby is born, it no longer needs to be attached to its mother with a tube so a doctor will snip off the umbilical cord, leaving behind a small stump. After a few weeks, the stump dries and falls off. What's left is an innie or an outtie.
[Armpits, Belly Buttons & Chronic Wounds: The ABCs of Body Bacteria]
Now, the baby can breathe, feed, and make dirty diapers all on its own.
Follow Life's Little Mysteries on Twitter @llmysteries. We're also on Facebook & Google+.
Stay up to date on the latest science news by signing up for our Essentials newsletter.
Corey Binns lives in Northern California and writes about science, health, parenting, and social change. In addition to writing for Live Science, she's contributed to publications including Popular Science, TODAY.com, Scholastic, and the Stanford Social Innovation Review as well as others. She's also produced stories for NPR's Science Friday and Sundance Channel. She studied biology at Brown University and earned a Master's degree in science journalism from NYU. The Association of Health Care Journalists named her a Centers for Disease Control and Prevention Health Journalism Fellow in 2009. She has chased tornadoes and lived to tell the tale.