Loud Golf Clubs May Damage Hearing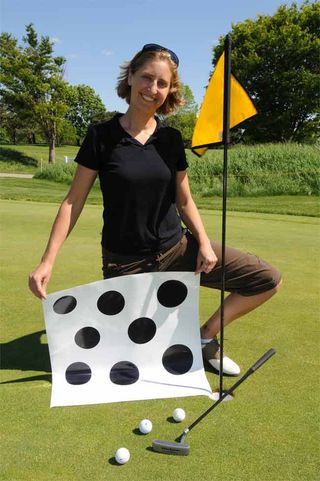 (Image credit: Purdue News Service photo/David Umberger.)
Did Santa bring you one of those thin-faced titanium, long-distance drivers to put in your golf bag? Did he also leave behind earplugs?
A case study in last month's British Medical Journal warns against the possible damage to a golfer's hearing from the loud "clank" sound made by these clubs when they hit a golf ball. Dr. Malcolm Buchanan, an ENT specialist at Norfolk and Norwich University Hospital in England, was diagnosing a 55-year old man who came into his clinic complaining of unexplained tinnitus and reduced hearing in his right ear. Their hearing tests confirmed that his symptoms were similar to those experienced after exposure to loud noises.
They ruled out other age-related hearing issues but he did complain about the loud noise his King Cobra LD driver made whenever he teed off. He had been using the club for the last 18 months, playing three times per week.
Buchanan, an avid golfer, had also heard these clubs on local courses and decided to investigate. In addition to his patient's King Cobra, he gathered five additional titanium-faced drivers, including brands like Callaway, Nike and Ping, along with six stainless-steel faced drivers which represent the previous generation of club heads. Placing a decibel measuring device 5.6 feet away from the club head, the sound levels of each club were recorded as a professional golfer hit three balls per club. The safe limit for these types of impulse noises to the human ear is 110 decibels. All six titanium drivers produced sounds greater than the safe limit with the Ping G10 topping out at 130 decibels or similar to a gunshot or firecracker. These new generation thin-faced clubs were also louder than all but one of the thicker-faced stainless steel models. See the full results here.
"Our results show that thin-faced titanium drivers may produce sufficient sound to induce temporary or even permanent cochlear damage in susceptible individuals," Buchanan concluded. Before he can recommend ear protection for all golfers, Buchanan would like to expand his study, by testing the hearing of professional golfers at the 2009 British Open. In the meantime, you can continue to annoy your foursome with not only the sound of your new driver, but the extra yards you'll be walking to get to your tee shot on the fairway.
Stay up to date on the latest science news by signing up for our Essentials newsletter.