Yosemite 'Firefall' Fizzles From Little Snow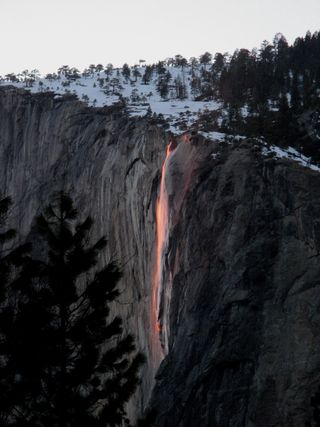 (Image credit: Bethany Gediman/NPS)
With clear skies and just the right lighting from the sun, Horsetail Fall in Yosemite National Park takes on the appearance of fire or lava tumbling down a cliff. But the famed 'firefall' has been more of a 'firedrizzle' this year due to a lackluster snowpack.
The bright orange water lures photographers from across the country to the park, where they hope for a glimpse of the rare illusion. Photographers have posted stunning pictures of this year's 'firefall' on the park's Facebook page, but the transformation isn't as impressive as in years past.
"There's very little water 'cause we've had a huge lack of snow this year," said a spokesperson at the park. "Compared to other years with more water it's not quite the same effect."
Horsetail Fall flows over the eastern edge of El Capitan in Yosemite Valley. The waterfall is seasonal, only flowing in the winter and early spring as the snowpack melts. The waterfall's stream splits in to two, both dropping about 1,500 feet (450 meters).
It's a small waterfall that many people don't notice, but it has gained popularity as people have noticed it can glow orange during sunset in mid to late February. The "firefall" effect generally happens during this time because the sun is setting at a favorable angle. A clear western sky is necessary for the waterfall to glow orange, but February storm clouds aren't always cooperative.
When the perfect conditions come together, the waterfall will glow orange for about 10 minutes. When it happens, the waterfall looks more like lava flowing from Hawaii's Kilauea volcano.
Recent storms and snowfall have park officials hopeful that Horsetail will flow through Feb. 24, reported the Associated Press. Feb. 24 is usually the last day that the falls is seen.
The most popular place to see Horsetail Fall seemingly afire is El Capitan picnic area, west of Yosemite Lodge and east of El Capitan, according to the park.
Despite years of exploration in Yosemite, the first known photograph of the Horsetail firefall was taken in 1973 by outdoors photographer Galen Rowell.
You can follow OurAmazingPlanet staff writer Brett Israel on Twitter: @btisrael. Follow OurAmazingPlanet for the latest in Earth science and exploration news on Twitter @OAPlanet and on Facebook.
Stay up to date on the latest science news by signing up for our Essentials newsletter.
Brett Israel was a staff writer for Live Science with a focus on environmental issues. He holds a bachelor's degree in biochemistry and molecular biology from The University of Georgia, a master's degree in journalism from New York University, and has studied doctorate-level biochemistry at Emory University.