Dazzling Sea Life Explored on Remote Reef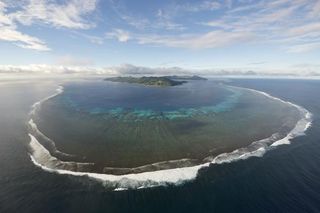 (Image credit: © Keith Ellenbogen.)
A dazzling coral reef in the Fiji islands, one of the most remote in the world, is getting a rare once-over from a team of researchers at the invitation of the local high chief.
Roko Josefa Cinavilakeba, the leader of Totoya, welcomed the scientists to his tiny island in the South Pacific with the aim of setting up protections for what the researchers consider a remarkable reef.
"The amount of fish and the size of fish are like nothing we've seen in Fiji," said Stacy Jupiter, director of the Fiji program for the Wildlife Conservation Society. "And they're quite tame. When you approach them they stay calm."
Jupiter was also pleased to see sharks on almost every dive; the top predators are key to keeping reefs in balance, but they are often the victims of fishermen who want their fins , which fetch large sums on the market.
The abundance, size and relative boldness of the local sea life indicate there's low fishing pressure on the reef.
Totoya, home to roughly 130 households, is small (about 11 square miles, or 28 square kilometers) and isolated. The closest airstrip is on an adjacent island, a 25-mile (40 kilometers) boat ride away.
From aboard the expedition's gently swaying research vessel, Jupiter said one morning this week that two ceremonies the previous day established formal proections for the reef in honor of World Oceans Day, and also with an eye to the future.
In the mid-1990s, the high chief at the time lifted a ban on fishing the reef.
"The new high chief, who came in last year, wanted to make a statement and to make sure he has enough fish for the future of his people," Jupiter told OurAmazingPlanet.
When not engaging in fish-counting duties, expedition members were treated to a psychedelic underwater light show, thanks to researchers from the Pacific Blue Foundation and the Scripps Institution of Oceanography, who use special blue lights to reveal fluorescent pigments in some corals, algae, fish, anemones and shrimp.
Jupiter said the main goal of the expedition helping the Totoya community better manage its fishing practices was accomplished with uncommon speed, in marked contrast to other parts of the world.
"In Fiji a chief can say, 'This area is off-limits to fishing,' and it's off-limits," Jupiter said.
Reach Andrea Mustain at amustain@techmedianetwork.com. Follow her on Twitter @AndreaMustain.
Stay up to date on the latest science news by signing up for our Essentials newsletter.
Andrea Mustain was a staff writer for Live Science from 2010 to 2012. She holds a B.S. degree from Northwestern University and an M.S. degree in broadcast journalism from Columbia University.