Human vs. Alien: Contest Pits Divers Against Spiny Invader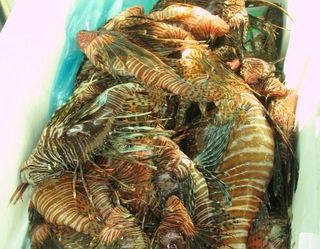 (Image credit: Jennifer Russell.)
A small battalion of divers in the Florida Keys spent their weekend battling a ferocious invader that has proved to be an unstoppable foe: the lionfish, a species that is taking over the Atlantic Ocean's warm waters.
On Saturday (May 14), from sunup to early evening, nine teams hit the waters off Long Key and brought in 531 of the poisonous, spiny fish in the second annual Lionfish Derby, hosted by the Florida Keys National Marine Sanctuary and Reef Environmental Education Foundation (REEF).
"It was a lot of work, and all the dives were deep," said Carlos Estape, a dive guide whose team won several prizes; not only did Estape bring down the biggest fish of the day, a 14-inch (36-centimeter) whopper, but his team killed 121 lionfish, which won the team second place.
"It paid for gas, and we had a lot of fun," Estape told OurAmazingPlanet.
The teams not only netted cash prizes and gift certificates, but also enjoyed a post-derby lionfish feast. Organizers served up the invading fish, which fortunately makes for good eating, wrapped in bacon.
The perfect invader
A fierce predator with a ravenous appetite, lionfish have spread from North Carolina to South America, from the eastern Caribbean and across the Gulf of Mexico, gobbling up the native fish species as they go. [Related: Infographic: Tallest Mountain to Deepest Ocean Trench ]
The fish, which are typically between 12 and 15 inches (30 to 38 centimeters) long, are native to tropical regions of the Pacific Ocean, and were first introduced to the Atlantic by humans. Rather than kill the animals, pet owners no longer willing or able to care for their lionfish instead dumped them into the ocean.
In their new home, the fish have no natural enemies (except humans) and the population has exploded.
Lionfish make cockroaches look like reproductive slowpokes, according to Tom Jackson, a research fisheries biologist and invasive species specialist at a Florida branch of the National Oceanic and Atmospheric Administration (NOAA).
"They can spawn every four or five days, and produce an immense number of eggs," Jackson said up to 2 million or 3 million of them.
Jackson said the species is a significant problem in some parts of the Bahamas and the Caribbean, where surveys have found up to 1,200 lionfish per acre, and said he expects within four or five years the relentless plague will begin to take its toll on commercially fished species in the United States.
Derby limits
As to the derby, Jackson said he is 100 percent in support of them, "But we can't control the lionfish with these derbies because they're deeper than we can dive." (The fish live in both shallow and deep waters.)
Estape agreed, saying that although the derby was exciting, it was somewhat bittersweet.
Late in the day, his team came upon a deep reef that was covered with lionfish.
"It looked like a flock of birds had landed on it," Estape said. "We could not shoot them fast enough." He said sometimes he'd have two or three fish at a time on his spear gun.
Although the lionfish jackpot got the team their second-place prize, Estape said the discovery was a disheartening one.
"We did not even dent the population. Lionfish can be in 5 feet (1.5 meters) of water or they can be in 1,000 feet (305 meters) of water. Our dive limits are 130 feet (40 meters)," Estape said. "So no matter how many we take off the reefs, these guys are reproducing deeper."
Organizers are holding two more lionfish derbies in Florida this year.
Reach Andrea Mustain at amustain@techmedianetwork.com. Follow her on Twitter @AndreaMustain.
Stay up to date on the latest science news by signing up for our Essentials newsletter.
Andrea Mustain was a staff writer for Live Science from 2010 to 2012. She holds a B.S. degree from Northwestern University and an M.S. degree in broadcast journalism from Columbia University.