'Inland Tsunami' Rips Through Australian City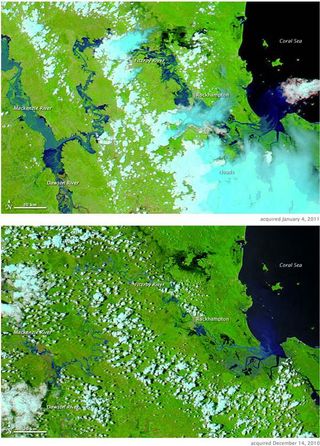 (Image credit: MODIS Rapid Response Team, NASA.)
A flash flood in one Australian city today (Jan. 11) was so ferocious that it has been compared to a tsunami.
The flooding inundated the northeastern city of Toowoomba, a city of some 130,000 people located about 60 miles (95 kilometers) west of the state capital, Brisbane. The rushing water claimed 10 lives and left 78 others missing, CNN reported.
The flood has been described as an "inland tsunami," according to many news reports, and it was the latest in the ongoing flooding that has killed 20 people and affected more than 200,000 in the state of Queensland .
"The water was literally leaping, six or 10 feet [1.8 to 3 meters] into the air, through creeks and over bridges and into parks," resident Greg Kowald told the Associated Press. "There was nowhere to escape, even if there had been warnings. There was just a sea of water about a half a mile wide."
Some residents reported that the wall of water in Toowoomba was 20 feet (6 m) high at one point, Neale Maynard, editor of Brisbane's Courier Mail newspaper, told NPR.
Wall of water
Flood surges such as this one are typically triggered by a "very intense precipitation event," said Matthew Kelsch, a meteorologist with the University Corporation for Atmospheric Research (UCAR) in Boulder, Colo.
Known as flash floods, they are typically caused by heavy rain falling in less than six hours, and sometimes in less than three hours, according to the National Weather Service. The flash floods generally trigger currents that rip through river beds, city streets or canyons and sweep out everything in their path.
The "inland tsunami" in Toowoomba seemed to appear with little warning, despite weeks of rain, according to news reports. In the United States, it's not that uncommon for a rainy period to gradually flood an area, and then a burst of rain will create a flash flood with little warning, Kelsch told OurAmazingPlanet.
Water funnel
Toowoomba is 2,000 feet (610 m) above sea level, but it's located in the mountains where flooding could be a problem.
"It's not how high above sea level that matters, but what the surrounding land is," Kelsch said. "What's important is the lay of the land."
Even cities such as Boulder, which is 5,000 feet (1,500 m) above sea level, are threatened with flash floods. There, water can drain off the Rocky Mountains and funnel into town, Kelsch said.
Toowoomba's urban setting could also be a problem. Cities often struggle with floods because of impervious surfaces and narrow streets that trap, channel and speed the rushing water.
Reach OurAmazingPlanet staff writer Brett Israel at bisrael@techmedianetwork.com. Follow him on Twitter @btisrael.
Stay up to date on the latest science news by signing up for our Essentials newsletter.
Brett Israel was a staff writer for Live Science with a focus on environmental issues. He holds a bachelor's degree in biochemistry and molecular biology from The University of Georgia, a master's degree in journalism from New York University, and has studied doctorate-level biochemistry at Emory University.