Old Faithful: Yellowstone Again Breaks Attendance Record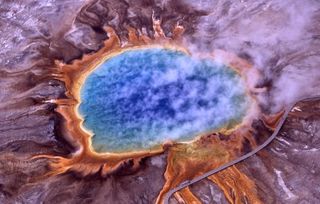 (Image credit: NPS.)
Yellowstone National Park has set an attendance record for the second time in as many years.
The park drew more than 3.65 million visitors during 2010, about a 10 percent increase over 2009, when some 3.3 million people visited Yellowstone, the Los Angeles Times reported. This was the third time in four years that the park has set an annual attendance record. Monthly visitation records for every month from June to October were also set. [Related: Top 10 Most Visited National Parks.]
For visitors looking for the least congested entrance to Yellowstone, avoid the West Entrance nearly 1.5 million recreational visitors passed through there last year.
Yellowstone is America's and the world's first national park and is home to wildlife such as grizzly bears, wolves, bison and elk. The park's collection of water-spewing geysers makes up nearly 60 percent of the world's geysers. [Infographic: The Geology of Yellowstone. ]
The famous Old Faithful is a cone geyser in Wyoming that can shoot 8,400 gallons (32,000 liters) of piping-hot water up to 185 feet (56 meters) in the air. The waterworks can last up to five minutes, with spurts going off about 90 minutes apart.
Geysers are temporary geological features, lasting only a few thousand years. Intense volcanic heat, underground water and natural geologic plumbing fractures, fissures and other open spaces in rock are required to create a geyser. As the water boils underground, a column of water and steam is blasted out of the geyser's opening.
Yellowstone has more to offer than just geysers, of course; the park covers more than 3,472 square miles (8,987 sq. km) filled with lakes, canyons, rivers and mountain ranges.
In addition to attractions like geysers, park managers credit the upward trend in attendance to aggressive promotion, stable gas prices and a good bang-for-your-buck at national parks.
The year 2010 was a big year for other national parks as well. Glacier National Park in Montana celebrated its 100th anniversary with more than 130 events. That helped the park set a new yearly attendance record of about 2,216,109 visitors.
Reach OurAmazingPlanet staff writer Brett Israel at bisrael@techmedianetwork.com. Follow him on Twitter @btisrael.
Stay up to date on the latest science news by signing up for our Essentials newsletter.
Brett Israel was a staff writer for Live Science with a focus on environmental issues. He holds a bachelor's degree in biochemistry and molecular biology from The University of Georgia, a master's degree in journalism from New York University, and has studied doctorate-level biochemistry at Emory University.