Science Project: Classes Evolving to Help Students Compete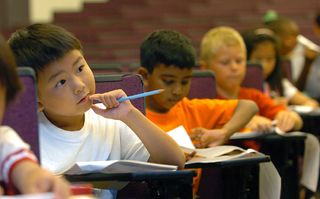 Mark McCaffrey, a programs and policy director at the National Center for Science Education, contributed this article to LiveScience's Expert Voices: Op-Ed & Insights.
How often is there near unanimity and consensus in the United States about anything? According to a 2012 survey, 97 percent of voters think that improving the quality of science education is key to America's ability to compete globally. Many (67 percent) believe that America's science education gets a grade of "C" or worse. And 87 percent support science standards that could be shared across the states.
As it happens, the Next Generation Science Standards (NGSS), which are being released next week, could measurably improve science education. But, there are a number of challenges that have to be overcome. The standards have to be adopted and deployed by the states, and some states, like Texas, will probably never adopt them.
There also needs to be relevant professional development for teachers, high-quality curriculum and assessments. Most daunting? Traditional high school science education "silos" — biology, chemistry, and physics — will need to be altered or adjusted to accommodate Earth and space sciences, and additional life and physical sciences.
If all those stars align, the new standards could indeed better prepare young people for the challenges, and jobs, of the 21st century.
What are the new standards? Here's a thumbnail sketch.
"By the states, for the states." Developed by a consortium of 26 states and other partners, the new standards are not national or federal standards but "by the states, for the states." While the federal government has various sticks and carrots to influence education nationwide, standards and curriculum are traditionally cast at the state or school district level. Shared standards and, ideally, shared learning assessments (tests), would help address the current hodgepodge of state standards that has contributed to the lack of continuity and overall lackluster quality of science education in the U.S.
NGSS is not Common Core. The Common Core State Science Initiative covers English and math and has been adopted by 45 states. Adoption of Common Core came with a strong federal carrot: states could not compete for billions of dollars of Department of Education "Race to the Top" funding unless they agreed to adopt Common Core standards. NGSS covers science and was developed by 26 states, with another 15 or more states "closely watching". Both NGSS and Common Core have been convened by Achieve, an independent, bipartisan, nonprofit, education-reform organization based in Washington, D.C.
National Science Education Standards are out-of-date. In 1996, the National Research Council published National Science Education Standards that some hoped would help establish a national curriculum. Two topics that were deliberately sidestepped in those standards were human evolution and the human role in climate change. Because local control of education often trumps national reform efforts, states created their own science standards. Some opted to start from scratch, others closely mirrored and updated the national standards. A few states' standards did include climate change and human evolution, but seldom for courses that all students take. For example, in Texas, climate change is well represented in a high school advanced placement course on Earth and space science, a course that most students don't take. The topic isn't well covered in biology, chemistry or physics.
Thinking like a scientist. NGSS emphasizes three themes designed to encourage scientific understanding and thinking: Practices, Crosscutting Concepts and Disciplinary Core Ideas. Those three dimensions, which come from the National Research Council's framework, are: practices used by scientists to understand the natural world and that engineers use to design models and systems; key concepts, such as patterns, cause and effect, energy and matter, and structure and function, which cut across all domains of science; and essential core ideas that have broad importance throughout the disciplines and grade levels and are relevant to the lives of students.
Advantages of NGSS. Shared standards and, down the line, shared assessments will provide continuity across states, which is useful given our mobile population. International benchmarking — correlating how these standards match with those of other nations — will help us compare our science education standing with other nations, which has not been easy with 50 different state standards. NGSS could also save states money, since states won't have to create or pay for their own separate standards, assessments, or curriculum. And, yes, NGSS reflects the most current science, including human impacts on the Earth in general and climate in particular, and how to minimize associated risks.
Disadvantages of NGSS. Because NGSS calls for substantial rethinking of how we teach science, some who will argue "it if ain't broke, don't fix it," or claim that departing from the status quo will throw the baby out with the bathwater. Changing established practices, no matter how well intended, is not easy.
One of the strengths of NGSS is that it is based on the National Research Council's Framework for K-12 Science Education, which was developed by a committee that included practicing scientists, including two Nobel laureates, as well as cognitive scientists, science education researchers, and science education standards and policy experts.
Part of the prestigious National Academy of Sciences that was founded in 1863 by President Lincoln to inform Congress and the nation about scientific issues, the National Research Council brings credibility and clout to all things scientific. Ideally, NGSS will represent the best of both worlds: science standards recommended by the nation's top science body, and education standards shaped by science education experts from the participating states, who will then help bring them into practice.
The views expressed are those of the author and do not necessarily reflect the views of the publisher.
Stay up to date on the latest science news by signing up for our Essentials newsletter.