James Gates: The Pain and Pleasures of Science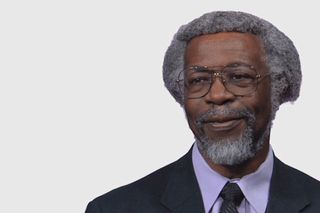 (Image credit: NSF)
This ScienceLives article was provided to LiveScience in partnership with the National Science Foundation.
Name: Sylvester James Gates Institution: University of Maryland, College Park Field of Study: Physics
As a ball rolled down an incline, young Sylvester James Gates, along with the other students in his class, were tasked with timing it and observing the principles of mechanics in action. "I saw a piece of magic happen right before my very eyes," he says. "Because, while I was well aware that mathematics was something that takes places between your ears, I had no idea mathematics actually described things outside of our ears. And so . . . this was the closest thing to magic I had ever seen." Today, Gates uses the magic of math to study elementary particles and the fundamental forces of nature.
He is known for his groundbreaking work in supersymmetry and supergravity, areas closely related to superstring theory. In 1983, he co-authored the seminal book "Superspace or 1001 Lessons in Supersymmetry.
Gates is also dedicated to the popularization of science and the promotion of science education and science careers to young people. In 2007, the American Association for the Advancement of Science honored Gates with its Public Understanding of Science and Technology Award.
A John S. Toll Professor of Physics at the University of Maryland, College Park, Gates is a member of the President Obama's Council of Advisors on Science and Technology. He received his Ph.D. in Physics from the Massachusetts Institute of Technology.
Below, he answers our 10 questions.
Editor's Note: The researchers depicted in ScienceLives articles have been supported by the National Science Foundation, the federal agency charged with funding basic research and education across all fields of science and engineering. Any opinions, findings, and conclusions or recommendations expressed in this material are those of the author and do not necessarily reflect the views of the National Science Foundation. See the ScienceLives archive.
Stay up to date on the latest science news by signing up for our Essentials newsletter.