Queen Jezebel: Biblical Bad Girl Had Power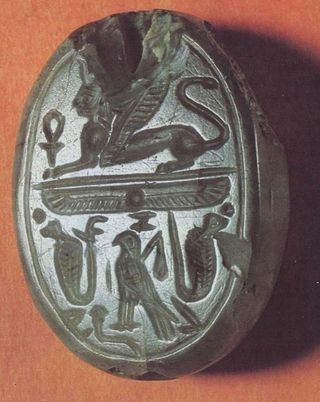 (Image credit: Israel Museum, Jerusalem)
Jezebel, the queen whose name became synonymous with all things lewd and wicked, probably wielded a fair bit of power in ancient Israel, suggests a stone document seal newly traced to the Biblical "bad girl."
Originally discovered in Israel in 1964, the intricate seal was suspected all along to belong to Queen Jezebel, but confusion over the letters engraved on the stone left some uncertainty. Recently, closer scrutiny of the seal's engraving revealed markings characteristic of royal objects.
"The lion-sphinx with female head and female Isis-Hathor crown, which is unique, this clearly points to a queen," said Marjo Korpel, an Old Testament scholar at the University of Utrecht who conducted the research.
The seal confirms that Jezebel, who eventually met a gory demise, was a powerful figure in the ancient world who conducted business independent of her husband.
Complete results of the University of Utrecht study are published in a recent volume of the Journal for Semitics.
Royal symbols borrowed from Egypt
Jezebel, whose life in the 9th century B.C. is chronicled in the Bible, was married to King Ahab of Israel. As a Phoenician, the Queen was considered pagan and attempted to sway the people of Israel to abandon their God and accept her chief deity Baal, partly through forging her husband's seal on documents, according to the scriptures.
The Bible says nothing of her own seal, but archaeologists have long believed that the stone discovered in 1964 was Jezebel's, despite the ambiguity of the symbols and the name depicted on it.
Multiple icons on the seal, as well as its above-average size, indicate that it belonged to a queen, the recent investigations concluded.
"The lotus (below the Horus falcon) was a symbol of gender definition and refers to a female owner," Korpel told LiveScience, "[while] the winged sun disk was a well-known symbol of royalty in and outside Israel."
Other symbols on the seal also reinforce the connection to a monarch, such as the Horus and double-cobra, a figure probably adopted from Egypt, she said.
A misspelling of the name "yzbl"—the queen's moniker in ancient Hebrew—also had archaeologists confused. However, by comparing the seal to similar examples from the time, Korpel found that an upper edge that had broken off likely contained the two missing letters that would have correctly spelled Jezebel's name.
Pagan queen had power
With her own seal, Queen Jezebel was able to exert a powerful influence upon people around her, much like the Egyptian queens, Korpel said.
"The biblical texts already prove that she was a powerful woman. The queens in Egypt … all have in common their prominent roles in religion, politics and representational art, and their status as principal wife. This also seems to count for Queen Jezebel," said Korpel.
Unlike Egypt, however, Biblical Israel did not look favorably upon powerful women. Jezebel was ultimately perceived as a threat and foreign idol worshipper, accused of prostitution, murder and sorcery, and tossed from her window to be ravaged by dogs.
History's Most Overlooked Mysteries
Gallery: Amazing Egyptian Discoveries
Gallery: The Seven Ancient Wonders of the World
Stay up to date on the latest science news by signing up for our Essentials newsletter.
Heather Whipps writes about history, anthropology and health for Live Science. She received her Diploma of College Studies in Social Sciences from John Abbott College and a Bachelor of Arts in Anthropology from McGill University, both in Quebec. She has hiked with mountain gorillas in Rwanda, and is an avid athlete and watcher of sports, particularly her favorite ice hockey team, the Montreal Canadiens. Oh yeah, she hates papaya.