Robot Financial Workers to Replace Human Traders, Report Says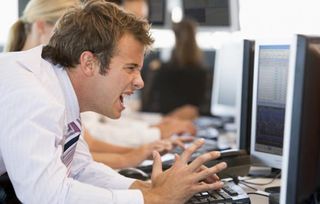 Human financial traders complicit in precipitating the Great Recession may soon find themselves as unemployable as many others, put out of work by robots as if they were factory workers or stevedores. According to a new report by the British Government's Foresight panel, automated trading by computer algorithms will replace a significant proportion of financial services workers over the next decade.
Huge investment banks and hedge funds already deploy many such algorithms in the battle to profit from lightning-quick trades on tiny movements in stock prices. One such set of computer programs even caused a miniature crash of the Dow Jones last summer. As these robot traders become more and more sophisticated, financial services workers will be forced to trade in their corner offices for the unemployment window.
"Just as real physical robots revolutionized manufacturing engineering, most notably in automobile production, in the latter years of the 20th century, leading to major reductions in the number of employees required at car plants, so the early years of the 21st seem likely to be a period in which a similar revolution (involving software robot traders) occurs in the global financial markets," the Foresight report said.
The Foresight panel's new working paper, titled "The Future of Computer Trading in Financial Markets," describes several future trends. It points to computer algorithms that not only examine market information, but can also increasingly use information such as written news reports, telephone calls, radio shows, podcasts and video to gain an edge in making trades.
"While unlikely, it is not impossible that human traders will simply no longer be required at all in some market roles," the report says. "The simple fact is that we humans are made from hardware that is just too bandwidth-limited, and too slow, to compete with coming waves of computer technology."
Bad news for high-powered traders may also spell good news for equal access to robot traders. Cloud computing makes it possible for anyone to rent supercomputer-scale power remotely for just a few thousand dollars, the report says. This means that emerging economies in Brazil or China can challenge the older financial centers in America and Europe just as private individuals harness financial tools previously restricted to hedge funds and investment banks.
Of course, like the human world of high finance, the new world of robot financial trading comes with some risks. Better self-regulation is needed to prevent short-sighted, computer-driven market swings such as the "Flash Crash" of May 6, 2010, that wiped out $800 billion on the U.S. equity market in five minutes, and then recovered most of the loss within 30 minutes. Disturbingly, the report found very few studies that examine how human and robot traders interact with one another.
The evolution of next-generation trading algorithms that can learn and adapt without human involvement may also make their behavior "very difficult to predict or control," the report says. That unpredictability would extend to world financial markets dominated by such robot traders.
Still, there is one likely upside for any college graduates and job seekers of today and tomorrow — computer programmers who can develop such algorithms will certainly remain in high demand.
This story was provided by InnovationNewsDaily, a sister site to Live Science. You can follow InnovationNewsDaily senior writer Jeremy Hsu on Twitter @ScienceHsu. Follow InnovationNewsDaily on Twitter @News_Innovation, or on Facebook.
Stay up to date on the latest science news by signing up for our Essentials newsletter.
Jeremy has written for publications such as Popular Science, Scientific American Mind and Reader's Digest Asia. He obtained his masters degree in science journalism from New York University, and completed his undergraduate education in the history and sociology of science at the University of Pennsylvania.