Mouse With Human Brain May Live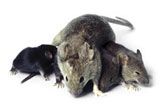 Animals have been getting a real work-out in science lately. Methuselah mice are helping humanity with aging, pigs are trying artificial corneas and monkeys get gene manipulations that force them to work hard with no thought of reward.
Now, Stanford University has given famed researcher Irving Weissman permission to create a mouse-human hybrid. The intent is to inject human brain cells into the brains of developing mice to see what happens. The National Academy of Sciences will unveil guidelines on chimera and stem cell research this spring.
Professor Henry T. Greely, director of the Center for Law and the Biosciences and leader of the committee that considered the proposal, told the San Jose Mercury News, "We concluded that if we see any signs of human brain structures . . . or if the mouse shows human-like behaviors, like improved memory or problem-solving, it's time to stop."
This is a good idea; all students of science fiction and 1990's Saturday morning cartoons know full well what happens when mice start getting ideas:
"Pinky, are you thinking what I'm thinking?""Yes, Brain, but isn't that dangerous?"
I hope, dear reader, that you will forgive me for not being able to pass that one up. Certainly, I take seriously the whole idea of such a creation, called a chimera after the lion/goat/serpent combo popularized in Greek mythology.
And, in the interests of intellectual rigor, I point out that perhaps the earliest reference to the idea that a chimera could be a product of science is that of the "monsters manufactured" in H.G. Well's 1896 novel The Island of Dr. Moreau:
I'm not sure why scientists are fixated on the idea that small rodents can help humanity, but I've been seeing it a lot lately. Besides the Methuselah mouse example mentioned earlier, rat neurons in a dish are being taught how to fly planes; and hairless mice have been used to grow human ears:
Read a bit more at Stanford researcher wants to create human-mouse hybrid.
(This Science Fiction in the News story used with permission from Technovelgy.com - where science meets fiction.)
Stay up to date on the latest science news by signing up for our Essentials newsletter.
Bill Christensen catalogues the inventions, technology and ideas of science fiction writers at his website, Technovelgy. He is a contributor to Live Science.