Depression in Pregnancy Raises Kids' Asthma Risk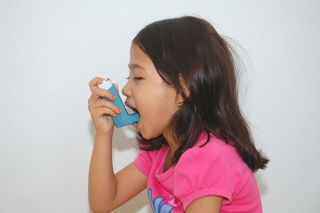 Staying stress-free during pregnancy does more than make life happier for a mom-to-be. It also may protect her baby from developing asthma during childhood, according to a new study. Researchers from the Columbia University Mailman School of Public Health followed 279 inner-city African-American and Dominican women during their pregnancies. The researchers measured the women's stress and anxiety levels using a series of questionnaires. When the babies were born, researchers tracked the health of the children through age 7. The higher a woman had ranked on scales of depression during pregnancy, the more likely her child was to develop symptoms of asthma — persistent wheezing and coughing — during the study period. "This is something that had been suggested anecdotally," said lead researcher Rachel Miller, an allergy and asthma specialist at Columbia. "And we were able to control for other factors and show that it's a true association." The study appears in the July issue of the journal Annals of Allergy, Asthma, & Immunology. Childhood Asthma Develops Before Childhood Previous research has suggested a link between a pregnant woman's environment and behavior and the health of her baby. Other studies have shown that a woman's diet, use of Tylenol and antibiotics, exposure to pollution and smoking habits all contribute to her baby's chance of developing asthma. The new study's focus on minority populations was particularly important, as they have not been included in previous studies in the field, the researchers said. "This is a population that is particularly prone to both problems — maternal stress and childhood asthma," Miller said. "And so it's an important group of people to study." Because it's known that childhood asthma is affected by an array of factors — including many after birth—the researchers took into account genetic risk factors for asthma, second-hand smoking exposure, and maternal age and education levels. They still found that maternal depression was predictive of childhood asthma. Around 70 percent of pregnant women with high levels of anxiety or depression ended up with a child that had wheezed by age 5. Only around half of mothers with low stress levels during pregnancy reported any wheezing in their children. "This paper clearly showed a relationship between more adverse psychological functioning in moms during pregnancy and wheeze patterns that are suggestive of who's going to go on to have asthma," says Rosalind Wright, who studies environmental and psychosocial causes of asthma at Harvard Medical School but was not involved in this study. How a Fetus Gets Exposed A child with asthma has lungs and airways that become easily inflamed when exposed to dust, pollen, pollution or smoke. The severity can range from persistent wheezing to sudden breathing emergencies. So how can maternal mood affect childhood asthma? Scientists suspect that the answer lies in the immune system. Maternal depression may raise levels of inflammation in the mother's body, and inflammatory molecules could enter the fetus, affecting its developing immune system. Asthma is a disease characterized by an overactive immune system. "The connection is far from sorted out, however," Wright said. "We are learning more and more about how complex the immune system is, and much more research is needed to look at the mechanism of how this works." For now, the new research solidifying the link between maternal stress and childhood asthma highlights the need for doctors to inform pregnant women about stress and anxiety. "Physicians should be talking to their patients about stress being an issue not only to their own health but to their child's health," Wright says. Pregnant women should view it not as one more thing to worry about, the researchers agreed, but as a license to worry less. Pass it on: When a mom is stressed out or depressed during pregnancy, she can increase her baby's chance of developing asthma.
This story was provided by MyHealthNewsDaily, sister site to LiveScience. Follow MyHealthNewsDaily on Twitter @MyHealth_MHND.
Stay up to date on the latest science news by signing up for our Essentials newsletter.