U.S. Army Orders Virtual Reality Training for Soldiers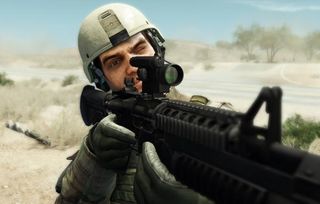 (Image credit: RealTime Immersive, Inc.)
To rehearse their assault on Osama bin Laden′s Pakistani compound, U.S. Navy SEALs had to construct a replica of the expansive hideout. The U.S. Army has a wealth of experience in building such structures, as they have created numerous buildings, "shoot houses" and even entire mock villages to help train troops. These training buildings are effective, but soon, soldiers may train in more futuristic environments.
Instead of using wood and metal models, the soldier of the future will train in a virtual reality world that essentially mixes "Call of Duty" with "Star Trek's" holodeck. Such immersion offers more flexibility compared to live training exercises based on physical mock-ups that can't replicate the danger of live bullets or artillery explosions, said John Foster, assistant project manager for the U.S. Army's Close Combat Tactical Trainer. It also delivers a more realistic training experience compared with the Army's existing game simulations, where soldiers use a keyboard and a mouse on a computer.
"'Dismounted Soldier' is going to put the soldier in a virtual environment with a replica of his weapon in his hands, so that he can go through all the same motions as in real life," Foster told InnovationNewsDaily.
The U.S. Army has already begun making that future a reality, recently ordering a $57 million "Dismounted Soldier" system that could eventually put flexible virtual reality training in the hands of any soldier in the frontline infantry. Such a system could use the latest mission intelligence to virtually recreate terrain and enemy forces that soldiers might face on the battlefield.
Some National Guard units in such states as New Jersey and Florida have tried similar virtual reality training. But the new system, awarded under competitive contract to the companies Intelligent Decisions and RealTime Immersive, is the first official Army program of record for all its soldiers.
Sound and vision
To enter immersive training, soldiers would put on a helmet-mounted headset that plunges them into the virtual missions. The headset also provides "cinema-quality sound" to accurately produce the gunfire sounds of, say, an AK-47 assault rifle versus an M4.
Through the video screens, the participant sees a digital version of the battlefield, generated by the most powerful graphics the video game world has to offer. The virtual realism also extends to facial expressions, as well as footprints on the ground or disturbed soil that might indicate a hidden roadside bomb, said Floyd West, program manager for Dismounted Soldier at Intelligent Decisions in Orlando, Fla.
"An IED (improvised explosive device) might be spotted based on disturbed soil or the variation in the color of cement," West told InnovationNewsDaily. "If you can't provide that level of detail, they can't get the training they need."
[Read More: Video Games May Shield Soldiers During Nightmares ]
Motion sensors placed strategically on parts of the soldier capture 360 degrees of movement. That includes arm motions and hand signals that soldiers use to communicate, as well as movements such as reaching for a weapon scope. A ruggedized backpack laptop runs the system.
Soldiers can stand, lie down or even roll on their own 10-feet-by-10-feet mats that give vibrational feedback. A mini-joystick on the gun allows soldiers to walk or run inside the virtual world without having to physically move about.
The system's portability means it can train soldiers anywhere in the world.
"You could move it to a gymnasium or a big area where you have the 1,500 square feet required for the suite to operate in," Foster said in a phone interview. "It's designed so that it could be deployed to train soldiers in forward areas of operation."
Nine soldiers in a squad can train together. But multiple units can be networked together so that a platoon or even a company of almost 200 soldiers can train cooperatively.
The virtual onslaught
Dismounted Soldier is expected to make its debut at the Army's Fort Benning, in Georgia, in January 2012. The system would then roll out with 104 squad-level training units over the next four years.
Such virtual reality immersion represents the "next logical step" for military training, according to Peter Singer, director of the 21st Century Defense Initiative at the Brookings Institute.
"As the entertainment world moves from 2-D to 3-D to immersive environments, we shouldn't be shocked to see military training world do the same," Singer said in an e-mail.
The Army eventually wants Dismounted Soldier to plug individual soldiers into a huge "seamless training environment" where they can interact on a virtual battlefield with troops sitting in their own simulators for Apache attack helicopters or Abrams tanks.
"It is one of the missing core components right now," Foster said. "It will fill a huge gap in that training environment."
This story was provided by InnovationNewsDaily, sister site to LiveScience. You can follow InnovationNewsDaily senior writer Jeremy Hsu on Twitter @ScienceHsu. Follow InnovationNewsDaily on Twitter @News_Innovation, or on Facebook.
Stay up to date on the latest science news by signing up for our Essentials newsletter.