Sega's idog -- The Friendly Robot Puppy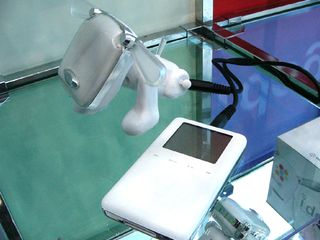 Sega unleashed its newest creation in Tokyo; a robotic dog called idog that can compose, play and dance to music.
Owners can program idog with an audio input jack at the base of its left hind leg (it's friendly with Apple's iPod, for instance). It has room for about 70 children's songs.
The idog has a number of switches located on its nose and other parts of its body that can cause the robot dog react to movement and to light up. The idog can express its emotions by moving its head and ears. It will cost about $40 and will be introduced in Japan in April.
How much is that doggy in the window? Forty bucks? Steal!
A famous science-fictional robot dog that can also sense movement and express emotion is Ray Bradbury's Mechanical Hound from his 1953 masterpiece Fahrenheit 451:
Hopefully, the cute, puppy-like idog will be friendlier than the Hound. The Hound was the companion of the firemen, who burned books instead of putting out fires. It also hunted enemies of the state by smell.
Read an article about a proposed robotic dog that will help our soldiers in the field - DARPA's Big Dog Robot. NASA is working on a "canine" companion for astronauts; see Boudreaux - Extra Vehicular Activity Robotic Assistant. Read more about the idog at Sega takes leash off robot dog.
(This Science Fiction in the News story used with permission from Technovelgy.com - where science meets fiction.)
Stay up to date on the latest science news by signing up for our Essentials newsletter.
Bill Christensen catalogues the inventions, technology and ideas of science fiction writers at his website, Technovelgy. He is a contributor to Live Science.