Long History of Southwest Droughts Confirms Looming Water Shortage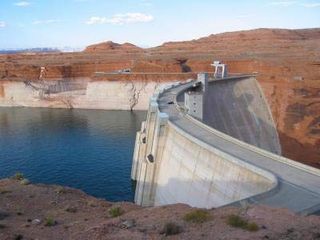 A new study comparing the most recent drought in the Southwest United States with other dry periods going back 508 years confirms worries that water shortages will become more common and severe.
Agreements to allocate water from the Colorado River were made in 1922, during an historically wet period. More water was allocated than is actually available now, scientists say.
Not all of the allocated water is actually used yet. But during a drought from 2000 to 2004, some reservoirs in the Southwest dropped to less than half full and water restrictions became common in many areas before the drought ended abruptly.
Expect worse
The new study, which examined growth rings in trees throughout the Colorado's vast drainage basin from New Mexico to Wyoming, is the first to look at five-year periods such as the 2000-2004 drought.
The researchers found that as many as eight droughts similar in severity to the most recent one have occurred since 1500, said study leader Connie Woodhouse of NOAA's National Climatic Data Center.
At least one drought and possibly three or more in the past were worse than the one that ended in 2004, said study team member David Meko from the University of Arizona.
Meanwhile, development in much of the Southwest is booming. In the Phoenix metro area alone, permits were issued for 63,570 new homes last year.
"Planners should consider that there's a limit to the water resource and that we're starting to push that at times," Meko said. "This recent drought was a good example. That's going to happen in the future more and more as demand increases."
In a telephone interview, Meko told LiveScience that the study results "should put a limit on how much growth can occur in the arid parts of the Southwest."
What is a drought?
The Colorado River supplies drinking water to some 30 million people and irrigates 3.5 million acres of farmland. Among the major population areas it serves: Los Angeles, Las Vegas, Denver, Phoenix and Albuquerque.
The study is detailed in the May issue of the journal Water Resources Research.
The very word "drought" may now be defined in ways that have little to do with natural climate patterns. Water resource managers nowadays factor human thirst into the definition.
"It's not purely a function of the natural system," Meko said. "It's partly a function of need. What might not have been defined as a drought 50 years ago would be now."
Stay up to date on the latest science news by signing up for our Essentials newsletter.
Robert is an independent health and science journalist and writer based in Phoenix, Arizona. He is a former editor-in-chief of Live Science with over 20 years of experience as a reporter and editor. He has worked on websites such as Space.com and Tom's Guide, and is a contributor on Medium, covering how we age and how to optimize the mind and body through time. He has a journalism degree from Humboldt State University in California.