Oldest Scottish tartan ever found was preserved in a bog for over 400 years
Scotland's oldest true tartan dates to between 1500 and 1600.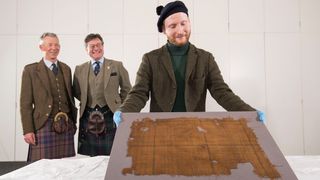 (Image credit: Alan Richardson Pix-AR)
The world's oldest surviving Scottish tartan is over 400 years old and, though now faded, once sported green, brown, red and yellow, a new analysis of the centuries-old fabric reveals.
The tartan was found in a peat bog in Glen Affric — an area in the Scottish Highlands carpeted with woods, lakes and moorland — in the 1980s, but this is the first time that scientists have examined it with dye analysis and radiocarbon testing.
Tartan is a specific type of textile made from colored wool yarn woven in crisscrossing horizontal and vertical bands. The places where the bands of color cross form the tartan's iconic diagonal lines, and the color blocks repeat to form a pattern of lines and squares. Since the 19th century, different tartan patterns have been associated with specific Scottish clans.
Measuring 22 inches by 17 inches (55 by 43 centimeters), the scrap of tartan was found in a peat bog just 19 miles (31 kilometers) west of Loch Ness. This area of wetland is covered in dead plants such as mosses, and that combination produces high acidity and low levels of oxygen that can preserve organic material for millennia. Peat bogs throughout the U.K. and Ireland have been known to preserve wood, butter and even human bodies.
Related: Scotland's 'bodies in the bog' traveled hundreds of miles to die in a toilet
Before testing the Glen Affric tartan, scientists carefully cleaned the peat staining off of it. Then, an analysis of the yarn dye was done at National Museums Scotland, using high-resolution digital microscopy. The scientists identified the four colors, which were produced by natural dyes such as woad, a flowering plant in the mustard family that can be used as a blue dye. The lack of artificial dyes suggested a pre-1750 date for the tartan, according to the statement.
Additional testing was then done at the Scottish Universities Environmental Research Centre (SUERC) Radiocarbon Laboratory in East Kilbride. The most probable date for the scrap of tartan is between 1500 and 1600, making it the oldest "true tartan" found in Scotland.
"Although we can theorize about the Glen Affric tartan," Peter MacDonald, head of research and collections at the Scottish Tartans Authority, said in a statement, "we don't know who owned it." The rustic nature of the cloth means it was mostly likely a garment someone wore while working outdoors, he said.
Earlier possible examples of tartans have been found in England. The Falkirk tartan, which dates to the third century A.D., was found a century ago in Scotland near the Antonine Wall, stuffed into a ceramic pot with thousands of Roman coins. Although the fabric was woven in two colors, the pattern is a simple checkered design, and there is no evidence the yarn was dyed, meaning it is not a "true tartan."
"The Glen Affric tartan is clearly a piece of national and historical significance," John McLeish, chair of the Scottish Tartans Authority, said in the statement. "There is no other known surviving piece of tartan from this period of this age. It is a remarkable discovery and deserves national attention and preservation."
The newly dated tartan fragment will be displayed starting April 1 at the Tartan exhibit at V&A Dundee, Scotland's design museum.
Stay up to date on the latest science news by signing up for our Essentials newsletter.
Kristina Killgrove is an archaeologist with specialties in ancient human skeletons and science communication. Her academic research has appeared in numerous scientific journals, while her news stories and essays have been published in venues such as Forbes, Mental Floss and Smithsonian. Kristina earned a doctorate in anthropology from the University of North Carolina at Chapel Hill and also holds bachelor's and master's degrees in classical archaeology.