8 pre-Inca mummies and artifacts unearthed just beneath the streets of Lima, Peru
While installing new gas lines in Peru, workers unearthed nearly a dozen pre-Inca mummies buried alongside a variety of artifacts.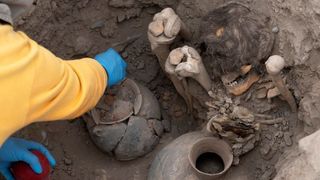 (Image credit: Cris Bouroncle via Getty Images)
While installing new gas lines just beneath the busy streets of Lima, Peru, utility workers unearthed an unexpected archaeological bounty: eight pre-Inca mummies and a wealth of artifacts.
The mummies, which were buried in a seated position, were wrapped in funeral bales made of cotton cloth and tied with ropes braided from liana, a woody vine that grows in rainforests. Archaeologists think the mummies were part of a pre-Inca culture known as the Ichma (also spelled Ychma) that incorporated into the Inca Empire in the 15th century, according to the Associated Press.
"We are recovering those [remains] of the lost history of Lima hidden under the tracks and streets," Jesus Bahamonde, an archaeologist at Cálidda, a local natural gas company that was leading the utility project, told the Associated Press.
Related: 3,000-year-old tomb of shaman who may have mediated 'between spiritual and earthly worlds' found in Peru
In addition to the funeral bales, which archaeologists think contain two adults and six children, workers discovered more recent artifacts, such as opium pipes, hand-rolled cigarettes, shoes, Chinese playing cards, a Peruvian silver coin minted in 1898 and a contract written in Spanish in 1875.
"When the Spaniards arrived in the 16th century, they found an entire population living in the three valleys that today occupy Lima," Bahamonde told the Associated Press. "What we have is a kind of historical continuation."
This isn't the first time that a construction project has revealed parts of Lima's past. In his time at Cálidda, Bahamonde said, more than 1,900 archaeological finds have been unearthed in the urban region, including mummies, pottery and textiles.
Lima is known for its abundance of archaeological sites, including 400 "huacas," or burial mounds, scattered throughout the city, according to The Washington Post.
Stay up to date on the latest science news by signing up for our Essentials newsletter.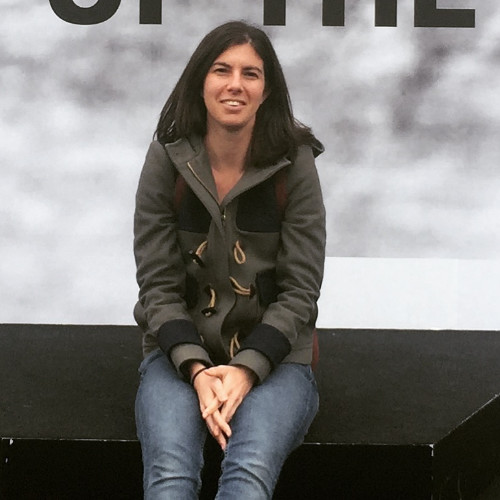 Live Science Staff Writer
Jennifer Nalewicki is a Salt Lake City-based journalist whose work has been featured in The New York Times, Smithsonian Magazine, Scientific American, Popular Mechanics and more. She covers several science topics from planet Earth to paleontology and archaeology to health and culture. Prior to freelancing, Jennifer held an Editor role at Time Inc. Jennifer has a bachelor's degree in Journalism from The University of Texas at Austin.