Creepy Cannibalism: Why Female Spiders Eat Mates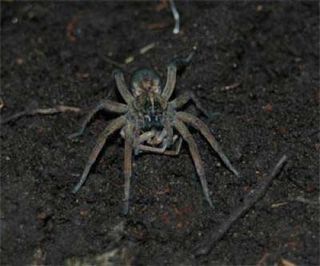 (Image credit: Shawn M. Wilder)
In many spider species, females eat the males after sex. Studies have suggested various complex evolutionary reasons involving costs and benefits to the species, sperm competition and esoteric sexual selection schemes.
Turns out the motivation for this creepy cannibalism is much simpler.
It's all about size. If males are small, they're easier to catch and therefore more likely to be prey, say Shawn Wilder and Ann Rypstra from Miami University in Ohio. Big females eat their puny mates simply because a) they're hungry and b) they can.
Wilder and Rypstra found that among the wolf spider (Hogna helluo), large males were never eaten by their mates, while small males were consumed 80 percent of the time.
Discovering this, the researchers then pored over the literature and found the size rule to hold true in a wide range of spider species.
The finding is detailed in the September issue of the American Naturalist.
"We were surprised to find that such a simple characteristic such as how small males are relative to females has such a large effect on the frequency of sexual cannibalism," Wilder said.
Perhaps the most well-known example of spider-women eating spider-men is the black widow. But even that cannibalism case is overstated. For most of the many species of black widows, cannibalism is the exception, not the rule, according to Rod Crawford of the Burke Museum of Natural History & Culture at the University of Washington.
Gallery: Creepy Spiders
The Most Popular Myths in Science
Stay up to date on the latest science news by signing up for our Essentials newsletter.
Robert is an independent health and science journalist and writer based in Phoenix, Arizona. He is a former editor-in-chief of Live Science with over 20 years of experience as a reporter and editor. He has worked on websites such as Space.com and Tom's Guide, and is a contributor on Medium, covering how we age and how to optimize the mind and body through time. He has a journalism degree from Humboldt State University in California.