History Repeats: The Great Flood of 1993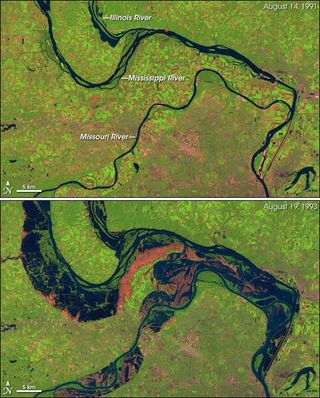 (Image credit: NASA)
This month's flooding in the Midwest is reminiscent of the Great Flood of 1993, weather officials now say. But while a repeat of 1993 can't be ruled out, they say, this year is unlikely to match that colossal disaster.
Several of the 1993 records have already been broken this year and flooding is forecasted to last for weeks more. Preliminary estimates put damage into the billions of dollars with overall storm deaths put at 24 since late May.
But barring unexpected summer rains, National Weather Service officials do not expect a repeat of the incredible intensity and duration of the tremendous flood 15 years ago.
Regardless, history is repeating itself as some residents who moved into the floodplain since 1993, with assurances from FEMA and other officials that they would be safe, have seen their towns submerged this month, creating personal financial disasters for people who in many cases have no flood insurance.
Looking back
Few disasters in U.S. history match the devastation of 1993, when hundreds of levees along the Mississippi and Missouri Rivers failed, killing 50 people and causing more than $15 billion in damage.
One of the most remarkable aspects of the 1993 flood was its duration. From May through September, major flooding occurred across North Dakota, South Dakota, Nebraska, Kansas, Minnesota, Iowa, Missouri, Wisconsin, and Illinois.
Some 50,000 homes were destroyed or damaged. And 75 towns were "totally and completely under flood waters," according to an account by Lee W. Larson, Chief of the Hydrologic Research Laboratory at NOAA's National Weather Service.
"It was certainly the largest and most significant flood event ever to occur in the United States," Larson said.
There were plenty of lessons to learn.
Levees inadequate
According to the U.S. Army Corps of Engineers, water overtopped or damaged 40 of 229 federal levees and 1,043 of 1,347 non-federal levees.
Among the other monumental effects in 1993:
Barge traffic on both mighty rivers halted for almost 2 months.
Bridges were out or not accessible on the Mississippi River from Davenport, Iowa to St. Louis, Missouri.
Ten commercial airports were flooded.
All railroad traffic in the Midwest was halted.
The 1993 and 1994 harvests were lost.
Numerous sewage treatment plants were destroyed.
The 1993 flood was not entirely unexpected. NOAA hydrologists had warned that a wet fall in 1992 and normal or above normal snowpack in the central United States meant flooding could be serious when things began to thaw in 1993.
"I think everyone was ready for some short-term heavy rain and serious flooding, but nobody thought it would last all summer," recalled Kenneth D. King, chief of hydrologic services at the NOAA National Weather Service Central Region Headquarters in Kansas City, Mo.
Nonstop rain
The rains were unrelenting.
In a five-month stretch starting April 1, 1993, nearly 48 inches fell in east-central Iowa, where an average of 33 inches of precipitation normally falls in an entire year.
By mid-June, soil throughout the entire region was saturated, so additional rains brought heavy runoff. In many locations within the nine-state area hardest hit by the flooding, it rained for 20 or more days in July; normally it rains eight or nine days during that month.
An unusual climate setup fueled the rains. A high pressure system known as the Bermuda High, which typically sits out in the Atlantic Ocean during summer and steers hurricanes toward the United States, was stronger than normal and moved farther to the north and west. This created a dam of air that stopped storms in their tracks over the Midwest, preventing them from sliding to the East Coast as they normally would.
The Missouri River crested at a record 48.9 feet at Kansas City on July 27, 1993. This water joined the already full Mississippi River and pushed the Mississippi to a record crest of 49.47 feet at St. Louis in Aug. 1.
Some locations on the Mississippi River were in continuous flood for six months.
Lessons learned?
One might assume some lessons had been learned. In fact, the NOAA administrator at the time, Dr. James (Jim) Baker, assumed so, too:
"Although the Great Flood of 1993 has caused devastating human, environmental and economic impacts, the lessons learned will guide us in providing improved services and benefits to the nation in the future," Baker wrote then.
But 15 years later, more homes than ever exist in the Midwest floodplains, and few projects to improve levees have been undertaken.
As an example of lessons not learned, the town of Gulfport, Illinois was inundated by 10 feet of water this month when a levee failed. That levee had been deemed safe by local officials and FEMA. Only 28 of the town's 750 residents had flood insurance, the Associated Press reports.
As Gerald Galloway, a professor of engineering at the University of Maryland, put it a few months after Hurricane Katrina: "The half-life of the memory of a flood is very short."
Repeat of 1993?
Already, several 1993 records have fallen.
"Major and record flooding continues at numerous points from Iowa to Missouri," according to NOAA. So far 31 levees have been overtopped or breached on the Mississippi between southern Iowa and St. Louis, with additional levees threatened through the weekend, the agency said in a statement. The breached levees actually reduce flooding downstream, officials note.
The Mississippi is not expected to rise above 40 feet this week at St. Louis. That's nearly 10 feet lower than in 1993.
Rivers across Iowa are generally falling, while record and major flooding continues on several rivers in Wisconsin, NOAA states.
Preliminary indications are that new records have been set at 21 National Weather Service river forecast locations on tributaries to Mississippi and Missouri Rivers.
Flooding will continue for weeks, forecasters say.
"If we compare 1993 and 2008 for the same time periods — through mid-June — we cannot rule out 2008 flooding could become comparable to 1993 if we have similar storms during the summer of 2008," the agency stated.
Bright future
The summer outlook appears sunny, however:
"As the upcoming weather pattern is expected to change and favor drier weather for the central plains in mid-late June, the chance of repeating 1993 appears to be low at this time," NOAA states. "The critical unknown elements are the pattern of future rainfall ... and the timing and frequency of any future rainfall."
Predicting the future is of course tricky. And it's liable to get trickier.
Last week, NOAA released a report detailing how the agency expects global warming to affect the United States. The bottom line: "Droughts, heavy downpours, excessive heat, and intense hurricanes are likely to become more commonplace."
What's the Deadliest Natural Phenomenon?
Stay up to date on the latest science news by signing up for our Essentials newsletter.
Robert is an independent health and science journalist and writer based in Phoenix, Arizona. He is a former editor-in-chief of Live Science with over 20 years of experience as a reporter and editor. He has worked on websites such as Space.com and Tom's Guide, and is a contributor on Medium, covering how we age and how to optimize the mind and body through time. He has a journalism degree from Humboldt State University in California.