Seriously 'Green' Building Looks ... Normal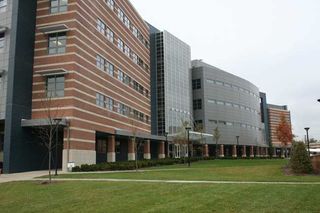 (Image credit: Dan Kulpinski)
Look at the newest "green" building in the Washington, D.C., suburbs, and you won't see solar panels, so you might be forgiven for not recognizing it as an environmentally friendly structure.
Instead, smart planning and design—and some smart technology—make the new building at the University System of Maryland's Shady Grove campus in Rockville an energy-efficient, green place.
The 192,000-square-foot building, named the Camille Kendall Academic Center, is 29 percent more energy efficient than minimum design standards developed by the heating and cooling industry. It opened in August 2007 and earned Gold certification—the second-highest rating—under the Leadership in Energy and Environmental Design (LEED) Green Building Rating System administered by the U.S. Green Building Council.
The estimated cost to make this a green building was an extra 1 percent of the $47 million budget, said Karen Mitchell, director of Administrative and Financial Services at the campus.
Such costs are usually recouped within one or two years through energy savings, said Ashley Katz of the U.S. Green Building Council.
Face the light
Fundamental choices, such as building orientation, go a long way towards improving the Academic Center's energy efficiency and reducing its energy costs, said Kara Strong, a senior project manager with Sustainable Design Consulting, a firm that provided green building advice to the project.
The design team placed the building to achieve optimal solar orientation, with maximum frontage facing south and north. This placement, along with larger windows on the north and south sides and one skylight, allows 75 percent of offices and classrooms in the building to receive direct sunlight, which reduces costs for electric lighting.
"Light was designed in from the very beginning," Mitchell said.
The building envelope—the windows and insulation—is also efficient when it comes to energy savings in the summer. All the windows have highly insulated glass; some contain fritted glass, which has a ceramic-enamel pattern of dots in it to block out some of the hot summer sunlight. Insulation in the walls and roof exceeds industry design minimums. Two green roofs, covered with plants, provide additional insulation and reduce stormwater runoff.
The result is a well-lit building with an open feel. "I think it's a really beautiful and comfortable building to be in and study in," said Mitchell.
Smart lights, awake students
Smart technology helps conserve even more energy. Each classroom contains a carbon dioxide monitor that "acts almost as an occupancy sensor," said Jane Briggs, the project manager, from the Department of Architectural Engineering and Construction at the University of Maryland at College Park.
The monitors indicate when a room is vacant, allowing the system to adjust heating or cooling to a minimum in empty rooms, saving energy.
The same monitors also help keep students awake. When carbon dioxide levels in a room get too high, the system lets in fresh air from outside. So students falling asleep in a crowded classroom during a long lecture can squarely blame the professor, not the room.
Near the windows of each classroom is a row of smart lights which automatically dim when a lot of daylight comes in, thereby saving energy on sunny days.
And many of the walls are covered with fabric that is partially reflective, thus reducing further the amount of electric lighting needed.
Exterior shades
Overall, only "tried and proven technology" was used in the building, Briggs said.
The heating, ventilation and air conditioning (HVAC) system utilizes highly efficient boilers, chillers and motors. Exterior solar shades on south-facing windows reduce the amount of heat the building picks up from the sun, cutting cooling costs in the warmer months.
To win its LEED Gold rating, the building also met benchmarks for water efficiency, use of materials with recycled or rapidly renewable content, and indoor air quality, among others.
Quiz: What's Your Environmental Footprint?
Top 10 Emerging Environmental Technologies
Stay up to date on the latest science news by signing up for our Essentials newsletter.