Napoleon's Soldiers Reburied in Belarus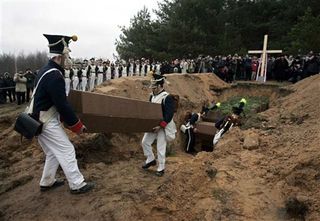 (Image credit: AP Photo/Sergei Grits)
MINSK, Belarus (AP)—The remains of more than 200 Napoleonic soldiers who died in a major battle with the Russian army were reburied Sunday with the assistance of historical re-enactors.
Tens of thousands of French troops and civilians perished when the Russians attacked Napoleon's army as it was crossing the Berezina River in November 1812 on the punishing retreat from Moscow.
The remains of 223 of the French soldiers were buried in a mass grave near the village of Studenka at Berezina's bank, about 70 miles east of the Belarusian capital, Minsk.
"Today we must remember the suffering that befell these soldiers and forget about our disagreements," the French Ambassador to Belarus, Mireille Musso, said at the ceremony.
The remains were found by war enthusiasts and government-sponsored teams digging in the area, which was also the site of a major battle during World War II.
About 100 military history enthusiasts from Russia, Belarus and France, dressed in period uniforms, re-enacted episodes of the Berezina battle to mark the event.
Stay up to date on the latest science news by signing up for our Essentials newsletter.