Social Media: Huge, and Here to Stay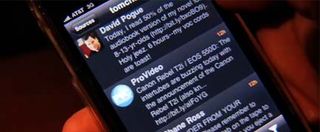 If you think social media is just a bewildering fad that will go away if you wait long enough, here are some things to consider:
1 out of 8 couples who got married in the United States in 2009 met via social media.
Social media has overtaken porn as the number one activity on the Web.
If Facebook were a country, it would be the third largest behind China and India.
"Social media is not only growing, it's absolutely here to stay," according to Erik Qualman, author of the best-selling book, "Socialnomics: How social media transforms the way we live and do business" (Wiley Publishing, 2009), which breaks down the power of the medium with the help of real-world examples.
For those out of the loop, social media sites – such as blogs, social networking sites and photo and video sharing platforms -- have predominately user-generated content, encourage interaction and collaboration between users and integrate easily with other sites.
As another example of social media's influence on modern culture, Qualman says YouTube is the second largest search engine in the world, and every minute, 24 hours of video is uploaded to the site.
Meanwhile, social media newcomer Four Square – a mobile social-gaming application allows users to "check-in" at venues to inform friends of their whereabouts – recently announced that it has 2 million members, only three months after it acquired its first million users.
"People are adopting this type of technology into their everyday lives at lightning fast rates," said Dallas-based social media consultant Giovanni Gallucci. "The need for these platforms may have always been there, but the vehicle to provide such content did not. High-speed Internet didn't exist just ten years ago."
It's the combination of broadband connections, smartphones and even devices like the iPad that are allowing social media sites to boom, he added.
"Although many companies like Microsoft had e-tablets out for years, the concept didn't really take off until Apple stepped in at the right time and created the iPad at the right price point," Gallucci said. "When automobiles first came out, most people couldn't afford them even though the need for a car was always there. It wasn't until production became less expensive that real adoption occurred."
The adoption of these relatively low-cost tech devices is helping to support the growth of social media. In fact, some mobile phones are even coming pre-loaded with Facebook and Twitter applications.
"Consumers carry their phones with them everywhere and this makes access to social media sites even more ubiquitous," said social consultant Jacob Morgan of Chess Media Group.
Changing the way we live
The thing that's so powerful about social media is that it affects the day-to-day life of so many different people with different backgrounds, Qualman said.
"For example, studies show that people now value what their Facebook friends think of a product or brand more than what advertisers are saying," he added. "Some companies are already taking advantage of this trend."
For example, travel reviews site TripAdvisor allows Facebook members to get city and hotel travel suggestions directly from their pool of online friends via the "TripAdvisor – Cities I've Visited" Facebook application.
"This is taking online reviews and recommendations to a whole new personalized level," Qualman said.
Moving forward
As for the term "social media," Gallucci says it will likely fade out of our vocabulary in the next 12-18 months.
"It's just going to become such a main thread on the Internet," Gallucci said. "If you see a site that doesn't have an element of social media to it, it will just look unfinished."
Meanwhile Qualman predicts that social media will take its next big leap into the e-book industry with the growing adoption of iPads and e-readers.
"I wouldn't be surprised if companies start a big advertising push into the e-book space," Qualman said, adding that instead of having the word "soda" featured in a novel, "Coca-Cola" could be used instead. "Tracking data could gauge how many people were reading that e-book page as though it was an ad impression."
Qualman also believes a natural step for e-books will be to embrace interactivity. If an e-book page mentions a museum or restaurant, a reader could click for pop-up images of an art exhibit or be directed to the diner's menu, he added.
And finally, social media and e-books could mix more than ever in education, as students opt for digital text books over heavier tangible ones.
"My guesstimate is that companies will start tracking which students get a 4.0 and be able to 'share' the notes they write in their virtual margins to help others," Qualman said. "Privacy issues aside, the technology exists – companies just have to work out the details."
The bottom line: Social media's seen nothing yet. "There's just so much more to come," Qualman said.
Stay up to date on the latest science news by signing up for our Essentials newsletter.
Samantha Murphy was a contributor to Live Science, covering the tech industry. She holds a degree in journalism and cinema studies from New York University.