Cell Phones Reveal Predictability in Human Movements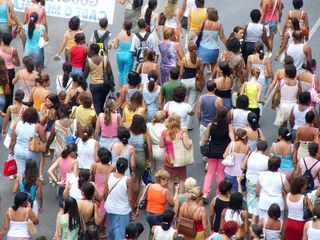 (Image credit: stock.xchng)
Humans are unpredictable, movers and shakers — or so we might think. Yet new research that used cell phones to track people reveals the patterns of our movements and where we can be found, day or night, are predictable as much as 93 percent of the time, no matter how far we travel.
"The most surprising thing to us is the lack of variability in predictability across the population, meaning that most all the users have same degree of predictability," regardless of their gender, age, or language spoken, lead researcher Chaoming Song, a physics doctoral student at Northeastern University, told LiveScience.
Using cell phone data from 50,000 anonymous users over a three-month period, Song and colleagues were able to track people's movements every time they received a call or a text message.
"For us they are just like particles in a gas that move and interact with each other," said Song.
They found that most people stayed within an area with a six-mile (10 km) radius while a few did travel hundreds of miles from their home base.
The likelihood individuals would be at their number one most visited locale was 70 percent. So at any point during the day, if the scientists were to predict a participant was at this popular spot, they'd be correct 70 percent of the time.
Participants were least predictable during the weekends and when they were on the move, traveling to and from work, or on their lunch break.
The findings could allow researchers to develop traffic control measures based on how many people are on a specific street, or enable public health officials to determine where a virus is likely to spread because of the number of people in a populated area, Song said.
Yet what the results shows us about human behavior could be the most significant finding.
"At a more fundamental level, they also indicate that, despite our deep-rooted desire for change and spontaneity, our daily mobility is, in fact, characterized by a deep-rooted regularity," the authors write in the Feb. 19 issue of the journal Science.
Video: Computer Simulation Predicts Crowd Behavior
Stay up to date on the latest science news by signing up for our Essentials newsletter.