Boeing Wants to Sell Russian Spaceship Rides to NASA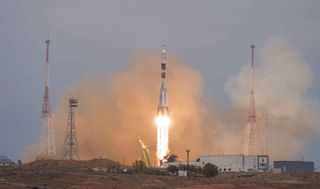 (Image credit: NASA/Joel Kowsky)
NASA could boost the number of astronauts living on the International Space Station as early as this year if an unusual flight opportunity through Boeing pans out.
As part of a settlement with Russia's RSC Energia, which manufactures Soyuz capsules, Boeing has rights to seats on Soyuz capsules during station taxi missions planned for this fall and spring, as well as options for three more seats during flights in 2019.
By then, NASA hopes to break its dependence on Russia for flying crews to the station, a research laboratory that flies about 250 miles above Earth. Since the end of the shuttle program in 2011, Soyuz capsules are the only spaceships available to fly crews to the station.
In a solicitation released on Tuesday, NASA said it was considering making the extra Soyuz buy through Boeing because "no other vehicles are currently capable of providing these services in Fall 2017 or Spring 2018."
NASA already has bought rides from Boeing and from SpaceX aboard commercial space taxis, which are still in development. Originally planned to be available in 2018, the NASA solicitation acknowledges that the new vehicles are not expected to begin fully operational flights to the ISS until 2019.
Having seats on Soyuz capsules flying in 2019 provides a backup plan if the new commercial spaceships are delayed.
RELATED: SpaceX Must Still Prove That It Can Safely Launch Astronauts Into Space
"As part of Boeing's proposal to NASA, they would have the option for three seats in 2019, which they can choose to exercise, or not. This ensures access for U.S. astronauts by essentially having three seats as a back-stop if unforeseen delays occur in commercial crew deployment, allowing the ISS to be crewed and science to be conducted," Boeing wrote in an email to Seeker.
The extra seats in 2017 and 2018 would give NASA the ability to add a fourth U.S. crewmember to the station's staff. Russia meanwhile is cutting its three-member crew to two, a cost-saving move triggered after delays in launching a new Russian science lab.
The Soyuz seats were offered to Boeing as part of a settlement with Energia, which was the primary owner and Boeing's partner in another space launch company called Sea Launch.
Boeing declined to say how it would charge NASA for the Soyuz seats, but said that the price would not be more than what the U.S. space agency would pay if it purchased the seats directly from Russia.
NASA's last contract with the Russian space agency Roscosmos for Soyuz seats, announced in August 2015, was for six seats covering flights through 2018, at a cost of $82 million apiece.
Boeing did not say if the price would be more than what NASA will pay for rides on its CST-100 Starliner capsule, which is scheduled for an unmanned test flight in June 2018.
RELATED: Commercial Space to Smash the Astronomy 'Funding Wall'?
SpaceX, which will provide rides for NASA astronauts aboard its Dragon capsules, declined to comment.
NASA said buying extra Soyuz rides from Boeing won't impact its other crew flight contracts with Boeing and SpaceX.
"NASA has ordered six crew-rotation missions from each commercial crew provider under the Commercial Crew transportation Capability contract. The missions will fly following NASA certification," spokeswoman Tabatha Thompson wrote in an email.
"The seats in 2017 and 2018 present a unique opportunity to increase U.S. research, which can benefit greatly from additional U.S. crew time. For 2019, although U.S. commercial transportation providers are making good progress, having an option that protects for delays or problems in certification is a sound approach and has been recommended by agency external review bodies," she wrote.
NASA expects to begin negotiations with Boeing for the Soyuz seats later this month. Responses to the solicitation are due Jan. 27.
Original article on Seeker.
Stay up to date on the latest science news by signing up for our Essentials newsletter.