Rio Olympics: Scientists Predict How Many Medals Each Country Will Win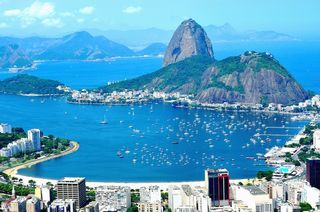 (Image credit: Joao Luiz Lima/Shutterstock.com)
The Summer Olympic Games in Rio de Janeiro are still two months away, still plenty of time to make bold predictions on who will take home the top prizes.
With thousands of athletes from over 200 nations competing across more than 300 events in 28 sports, determining which athlete will win what contest is always a gamble, and every Olympics has had its fair share of surprises and upsets. But figuring out how many medals each country's athletes will collectively take home is more manageable by using a combination of past Olympic performance history and socioeconomic data, according to an article published this week in the journal Significance.
RELATED: Top 25 Iconic Olympics Moments
The United States, China and Russia typically top the medals table, and have an excellent chance of doing so again. All three nations have more well-trained athletes than other nations, but there's more to it than just population size at play here.
Although a metric like a country's gross domestic product (GDP) in no way directly impacts athletic performance, the authors find a strong correlation between GDP and medal wins. "[I]n a wealthy country, the population can dedicate more time to leisure activities and can afford to support a class of professional athletes — both of which lead to investments in better sports infrastructure which can deliver more effective training," the authors write.
WATCH: Are Olympic Gold Medals Really Made of Gold?
The political and economic systems of each country also plays a role in athletic performance. Autocratic nations and those with planned economies — and even those who used to have such systems in the past — dedicate more resources to athletic competition as a source of prestige. Social considerations, such as the treatment of women in sports, can also affect a nation's final medal count.
RELATED: Olympics: Is Favoritism Still a Problem?
To predict how many medals the top 15 countries with the most successful athletes will win, the researchers developed two models. The first, which the dubbed the "naive" model, looks only at performance history. The second, called the "sophisticated" model, incorporate socioeconomic data.
Based on the results of the sophisticated model, the authors predict the United States (98 medals), China (84 medals), Russia (77 medals) and the United Kingdom (62 medals) "will retain their top positions in the medals ranking... but Brazil and Japan are expected to make the biggest gains." Brazil, the host nation for this year's Games, and Japan, the host country for the 2020 Summer Olympics, have both increased investments in their athletes.
Of course, there are still variables left unaccounted for, even by the authors' own admission. Russia's participation in this year's Olympics is still in question. Last November, following a damning report that found evidence of state-sponsored doping, Russia was suspended from international competition. A hearing is scheduled for June 17 in Vienna to determine whether Russian athletes will be allowed to compete.
RELATED: 10 Weird Sports of Olympics Past and Present
Any prediction surely won't discourage any underdogs, who are surely making the trip to Rio with hopes of winning a medal, if not gold. "The history of the Olympic Games is full of surprising performances by individual athletes," the authors conclude, "and we should expect to see more of them in Rio in August.
Originally published on Discovery News.
Stay up to date on the latest science news by signing up for our Essentials newsletter.