Michelangelo Worked Despite Arthritic Hands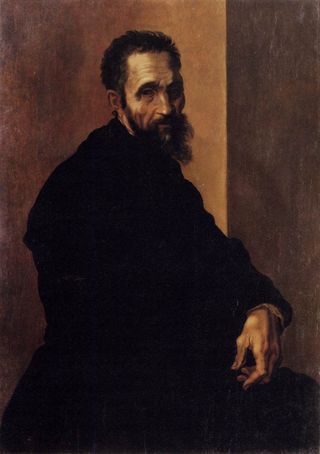 (Image credit: Public domain)
Michelangelo defied the painful arthritis that riddled his hands in the last 15 years of his life by carrying on working until his last days, a new study suggests.
The study relied on analysis of portraits of Michelangelo as well as on historic documents.
"There are no spectroscopic or X-ray images available, and for this reason, the careful observation of the portraits is the only method available today to interpret hand deformities," an international team of researchers wrote in the Journal of the Royal Society of Medicine.
Michelangelo's David at Risk From Weak Ankles
The team included Davide Lazzeri and Manuel Francisco Castello, both specialists in plastic reconstructive and aesthetic surgery at the Villa Salaria Clinic, Rome, Donatella Lippi, director of the department of History of Medicine at Florence University, Marco Matucci-Cerinic, director of the division of rheumatology at Florence University, and George M.Weisz at the University of New South Wales, Sydney, Australia.
In particular, three paintings, which depict the artist between the ages of 60 and 65 show his left hand bearing signs of osteoarthritis, a painful joint disorder which today affects 9.6 percent of men and 18 percent of women aged over 60.
"A study of Michelangelo's biography and letters indeed supported the diagnosis of a degenerative osteoarthritis, possibly ruling out other possible diseases," lead author Lazzeri told Discovery News.
Is This the First Self-portrait of Michelangelo?
Several organic, psychological and behavioral disorders, ranging from lead intoxication to Asperger's disease, have been attributed to Michelangelo.
A large correspondence with Lionardo di Buonarroto Simoni, Michelangelo's nephew, reveals that the artist suffered from "gout," a general term of the period which included all arthritic conditions.
But according to the researchers, no signs of inflammation and no evidence of tophi, the small lumps of uric acid crystals that form under the skin of people with gout, could be detected in the artist's hands.
Lazzeri and colleagues estimate that Michelangelo (1475-1564) likely began experiencing the first symptoms of the disease between 1547 and 1553, when he worked on the Deposition, or Florentine Pietà. The extensive hammering and chiseling carried out during Michelangelo's younger years was likely responsible for the deformed hands in later life.
The disease progressed until his final, and unfinished work, the Rondanini Pietà.
Michelangelo's David Holding Secret Weapon?
By that time, the hands that carved David, designed St Peter's basilica and painted The Last Judgment in the Sistine Chapel, were twisted into deformed protrusions. Michelangelo was unable to write, and could only sign his letters.
Nevertheless, the master was seen hammering up to six days before his death on Feb. 18, 1564, three weeks before his 89th birthday.
According to the researchers, osteoarthritis affecting the small joints of Michelangelo's left hand can be first detected in a portrait by Florentine Mannerist painter Jacopino del Conte (1510–1598).
Dated 1535, the painting depicts Michelangelo when he was over 60. He looks tired and older than his age. His left hand is shown hanging, with apparent signs of a non-inflammatory articular disease.
The second painting by Daniele Ricciarelli, better known as da Volterra, is dated 1544 and is probably a copy of del Conte's work.
Does Knuckle Cracking Cause Arthritis?
The third portrait, by Pompeo Caccini, was painted in 1595, 36 years after Michelangelo's death, and shows the artist's left hand in a claw-like posture.
Interpreted by contemporary historians as suggesting the artist's left-handedness, all three paintings "show Michelangelo's hand to be affected by degenerative arthritis," the researchers concluded.
"Michelangelo's difficulties with tasks such as writing may have resulted from stiffness of the thumb and the loss of the ability to abduct, flex and adduct it," Lazzeri and colleagues wrote.
Mona Lisa May Conceal Second Portrait
They noted that the swellings at the base of the thumb and the swellings of the smaller joints of the thumb and index are not gouty in origin and can be interpreted as osteoarthritic nodules.
"The diagnosis of osteoarthritis offers one plausible explanation for Michelangelo's loss of dexterity in old age and emphasises his triumph over infirmity as he persisted in his work until his last days," Lazzeri said.
"Indeed, the continuous and intense work could have helped Michelangelo to keep the use of his hands for as long as possible," he added.
According to Francesco Galassi, a researcher at the Institute of Evolutionary Medicine at Zurich University who has long worked in the field of pathography, the study is "somehow interesting" but caution is needed.
Fly Found With Da Vinci Princess Spurs Mystery
"While this new diagnosis is certainly very charming, personally I don't believe this is ever going to make Michelangelo's a closed case," Galassi told Discovery News
"Focusing on one anatomical district doesn't disentangle the conundrum of Michelangelo's bodily ailments, an enigma not inferior to that of his immortal genius."
Originally published on Discovery News.
Stay up to date on the latest science news by signing up for our Essentials newsletter.