Docs Are Key Source of Painkillers for Chronic Users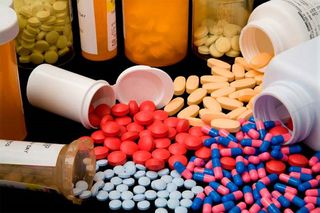 (Image credit: Dreamstime)
Most people who use opioid painkillers such as OxyContin and Vicodin for nonmedical reasons first get their pills from friends or family, but for those who are frequent users, doctors become their major source of the medication, according to a new study.
Doctors often prescribe opioid medication to treat moderate to severe pain from injuries, arthritis and other problems, but studies have estimated that each year 12 million people use painkillers for nonmedical and recreational reasons.
In the new study, researchers looked at yearly, national surveys on drug use from 2008 to 2011, and found that the more frequently people used these drugs, the more likely they were to have obtained the medication from a doctor.
Nonmedical users who took opioid medication on more than 200 days yearly were more likely to get the medication from a doctor than from a friend or other sources. They reported obtaining the narcotics from a doctor 27 percent of the time, whereas they bought the medication from a dealer 15 percent of the time, according to the study published today (March 3) in JAMA Internal Medicine. [10 Easy Paths to Self Destruction]
The new findings show that doctors have a role to play in reducing opioid abuse, said study author Christopher Jones, a drug-safety advisor at the U.S. Food and Drug Administration (FDA).
By not screening their patients or checking the Prescription Drug Monitoring Program, doctors "may be knowingly or unknowingly contributing to the source for a very high-risk population," Jones said.
Deaths from overdoses of prescription painkillers have more than tripled in the past decade, according to the Centers for Disease Control and Prevention. A 2011 report showed that 40 people die every day from overdoses involving painkillers such as hydrocodone (Vicodin), methadone, oxycodone (OxyContin), and oxymorphone (Opana).
Studies have shown that the number of people who frequently use opioid painkillers is increasing too, and that this group is at high risk for addiction and injecting the medication, which puts them at risk for overdose and death.
"We thought it's important to look at this population, to understand how they are obtaining their medication, and what interventions could be applied once we identify the source, and we found again that physicians were a common source for this group of frequent users," Jones told Live Science.
Last October, the FDA called for tighter controls on how doctors prescribe most commonly used narcotic painkillers, proposing restrictions that would make it harder for patients to refill their prescriptions for some drugs such as Vicodin.
Clinicians should make sure an opioid medication is appropriate for their patient and the type of pain they have. They should screen patients for risks and check prescription drug-monitoring programs, Jones said.
The study also showed that people with the lowest use of opioids most often get the drugs from friends and family. About 60 percent of people who used opioids for less than 30 days in a year obtained the drugs from friends or family, and 18 percent found it through doctors, researchers found.
"The vast majority of nonmedical users do report friends and family as their common source, so we need to educate people about the risks of these medications," Jones said. "These drugs have risks and by sharing something or giving it away, or selling it to a relative you may be contributing to their risk of overdose."
One reason why friends and family are a major source for obtaining the drugs may be that patients are prescribed more opioids than they need, Jones said.
"Some insurance companies are looking at quantity limits, so that there's not just this ready supply available in people's medicine cabinet," Jones said. "Also, there are number of efforts under way across the country to set up drug disposal containers and making it easier for people to get rid of their unused or unneeded pain medication."
Email Bahar Gholipour. Follow us @LiveScience, Facebook & Google+. Original article on Live Science.
Stay up to date on the latest science news by signing up for our Essentials newsletter.
Bahar Gholipour is a staff reporter for Live Science covering neuroscience, odd medical cases and all things health. She holds a Master of Science degree in neuroscience from the École Normale Supérieure (ENS) in Paris, and has done graduate-level work in science journalism at the State University of New York at Stony Brook. She has worked as a research assistant at the Laboratoire de Neurosciences Cognitives at ENS.