Haiyan's Aftermath: 7 Key Steps to Recovery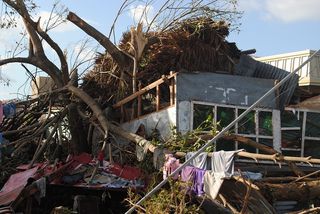 (Image credit: Arlynn Aquino EU/ECHO, Leyte, Philippiones, November 2013)
Super Typhoon Haiyan tore through the Philippines one week ago today (Nov. 15), but thousands in the island nation are still missing and in many areas, aid is just beginning to trickle in or hasn't yet arrived, according to news reports. Part of the reason for that is due to the nature of the Philippines' geography — the country is made up of more than 7,000 islands and is only accessible by boat or air.
The good news is ships from the United States (including the aircraft carrier USS George Washington, carrying 5,000 crew and more than 80 aircraft) and the Japanese navy have arrived and have begun dispensing aid to many of the affected areas, according to news reports. But much has yet to be done, and in many areas, the nightmare set off by Typhoon Haiyan continues to get worse.
"It's really gotten to a dire situation," said Jeff Weber, a researcher at the University Corporation for Atmospheric Research in Boulder, Colo. "Hopefully, we've turned a corner and things continue to get better." [Photo Gallery: Typhoon Haiyan Hits Philippines]
Here are seven keys to recovery in the Philippines:
1. Provide food, water and medical care
This is an obvious first step and what is most needed right now, said Keith Tidball, a social ecologist at Cornell University in Ithaca, N.Y. In some areas, people are already getting desperate and angry due to the lack of aid, and there have been reports of people ripping up water lines to get fresh water. Another key is to properly dispose of dead bodies, which can spread disease if they decompose without being buried. Many bodies have been interred in mass graves.
2. Rebuild infrastructure
Many areas are still inaccessible due to crippled roads and airports. To get food to some isolated regions in the hard-hit provinces of Leyte and Samar, for example, roads will have to be cleared of sand and debris and in some cases rebuilt, according to news reports.
3. Maintain civil order
In response to a lack of food and water, there have been reports of looting and civil unrest in the hard-hit city of Tacloban. Tidball said that if it gets worse, authorities may have to step in, but said that can create a whole other slew of problems, perhaps most obviously that it takes away from aid efforts. Hopefully, the food and water that is now arriving in many areas will prevent the situation from getting worse, he added.
4. Donate cash, not stuff
In the aftermath of the Fukushima disaster following the March 2011 earthquake and tsunami in Japan, many people donated items like shoes. This led to a backlog in supply chains and took away from the relief effort; instead of helping people, officials had to deal with transporting and storing objects like shoes, Tidball said. It's much better to give cash, so that relief organizations can purchase what they need on site or nearer to where people are in need, he added.
5. Avoid scams
People should be wary of giving to the wrong groups, experts say. "Unfortunately, there are also scam artists who prey on people's charitable instincts at times like this," said Cornell researcher Chris Barrett in a release from the school. "So, if you're asked for a donation and don't know the organization, check them out at www.charitynavigator.org to verify their credentials and that the group makes good use of your donations." At least 80 percent, and preferably 90 percent, of donations should be used for programming, Barrett added.
6. Rehabilitate the environment
The immediate needs of people — food and water — are most important at this time, Tidball told LiveScience. But people also need to think about the health of the environment, which can really help people recover mentally and emotionally from a disaster of this magnitude, he said. For example, in the aftermath of Hurricane Katrina, New Orleans residents banded together to plant trees like live oaks, a large and iconic southern tree, which went a long way toward restoring morale and mental health. Efforts to improve the environment in the Philippines could also include tree planting and clearing beaches of debris, Tidball said.
7. Plan for the future
After immediate needs are met, people also need to plan for the future, Tidball said. Typhoons near this magnitude are likely to come again, and by most accounts, the Philippines wasn't prepared enough for this storm. Preparations for the future may include creating more storm shelters and avoiding development in low-lying areas that will eventually be hit by a future storm surge, he said.
"Development has to occur in a way that it doesn't just repair things how they were and put people back to where they were, just to be hit again," Tidball said.
Email Douglas Main or follow him on Twitter or Google+. Follow us @livescience, Facebook or Google+. Article originally on LiveScience.
Stay up to date on the latest science news by signing up for our Essentials newsletter.
Douglas Main loves the weird and wonderful world of science, digging into amazing Planet Earth discoveries and wacky animal findings (from marsupials mating themselves to death to zombie worms to tear-drinking butterflies) for Live Science. Follow Doug on Google+.