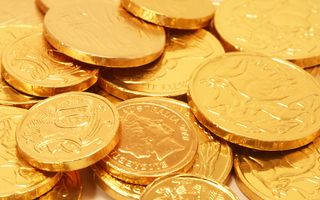 (Image credit: sxc.hu)
Pyrite may be shiny and brass-colored, but any miner will tell you, it is not as good as gold.
The inferior mineral nicknamed fool's gold only mimics gold in looks. Pyrite is more common, harder, and more brittle than gold. When crushed into powder, it looks greenish-black, whereas real gold powder is yellow.
Pyrite contains sulfur and iron. During World War II it was mined to produce sulfuric acid, an industrial chemical. Today, it is used in car batteries, appliances, jewelry, and machinery.
Although fool's gold can be a disappointing find, it is often discovered near sources of copper and gold . A miner who stops digging once they have a piece of pyrite in hand is the real fool.
Follow Life's Little Mysteries on Twitter @llmysteries. We're also on Facebook & Google+.
Stay up to date on the latest science news by signing up for our Essentials newsletter.
Corey Binns lives in Northern California and writes about science, health, parenting, and social change. In addition to writing for Live Science, she's contributed to publications including Popular Science, TODAY.com, Scholastic, and the Stanford Social Innovation Review as well as others. She's also produced stories for NPR's Science Friday and Sundance Channel. She studied biology at Brown University and earned a Master's degree in science journalism from NYU. The Association of Health Care Journalists named her a Centers for Disease Control and Prevention Health Journalism Fellow in 2009. She has chased tornadoes and lived to tell the tale.