5 Odd Effects of Sandy's Power Outage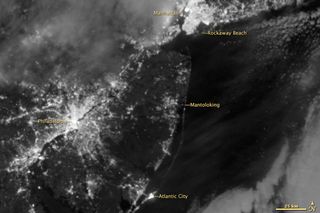 (Image credit: NASA Earth Observatory | Jesse Allen and Rob Simmon)
Superstorm Sandy left millions in the dark, and on the one-week anniversary of the storm's devastating arrival, many remain without power. Some businesses and services, however, face more complicated considerations than simply darkened rooms, spoiled food and dead cellphones.
LiveScience looked into the ramifications for a number of them. Here is what happens when the power goes out at:
1. A Funeral Home
Greenidge Funeral Homes in Atlantic City, N.J., flooded during the storm, and had a funeral scheduled for Monday (Oct. 29), the day the storm hit. Days before, the funeral home discussed the situation with the family of the deceased, and then, over the weekend, rescheduled the event for the following Monday (today), said funeral director Joe Greenidge. On Friday, he submitted an update to the local newspaper announcing the rescheduled funeral. The funeral home, on Absecon Boulevard, lost power on Monday evening during the storm, which brought record flooding to the city, but regained power on Wednesday.
Refrigeration wasn't an issue, because the deceased had already been embalmed when the power went out, Greenidge said. Funeral homes rely on electricity to embalm a body, or temporarily preserve it; however, it is possible to remove body fluids and replace them with preservatives using only gravity, as was done up until the 1920s, Greenidge said.
"It's just probably the last option you want to use. It takes a very long time," he said. "Most people would have to go to a textbook to figure out how to do [it]." [Top 10 Weird Ways We Deal With the Dead]
2. A Crematory
In the wake of the storm, power outages prevented some crematories from taking remains. Joseph Di Troia, who runs the Fresh Pond Crematory in Queens, said the facility never lost power, but had stepped up to take cremations from other facilities that weren't so fortunate. He declined to say how many his crematory had taken on.
The gas shortage plaguing New York City in recent days has also created a pressing problem for funeral directors, who must transport remains to crematories, Di Troia said.
Crematories operate using gas or propane flames, ignited and controlled by an electrical system, said Richard Rader, manager of the Cape May County Crematory in New Jersey.
"You need to spark it just like a fireplace," Rader said. Losing power "wouldn't be a major catastrophe," he said. If the flame went out mid-cremation, the remains would simply cool down, he said. Like other power-dependent businesses, some crematories have back-up generators.
3. Gas Stations
The mayhem was far from over when Sandy passed. As the New York metropolitan area attempted to return to normalcy, gasoline shortages added to the region's woes. Gas stations had no power to pump gas, and many had no gas to sell, resulting in many empty stations and some long lines of frustrated drivers and people seeking fuel for generators.
Power losses made a hefty contribution to the problem, not only leaving some stations powerless, but also making it impossible to get refined gasoline from storage tanks into trucks for transportation to gas stations, NBCNews reported.
In addition, shutdowns in advance of the storm disrupted deliveries at ports and refineries that supply much of the region's gas, The New York Times reported.
4. The Post Office
Because of its role in delivering Social Security and other payments to people, the U.S. Postal Service (USPS) is considered an essential service, and has made an effort to continue delivering the mail in spite of power outages and flooding, Federal News Radio reports.
Prior to the storm, the USPS made plans to curtail mail delivery and suspend collection if conditions became unsafe or impassable. Services would also be suspended in the case of a mandatory evacuation, according to Federal News Radio. [On the Ground: Photos of Sandy's Destruction]
In the wake of the storm, in order to get Social Security checks to residents living in heavily affected areas, the USPS set up alternate distribution centers.
5. A Wastewater Treatment Plant
Wastewater treatment plants rely on electricity, so a complete loss of power could potentially cause the system to back up, returning sewage to toilets and sinks, thus making homes uninhabitable. However, most states, including Connecticut, require plants to have a backup power source to prevent this, said Jeanette Brown, a research scientist at the University of Connecticut and former head of Stamford's Water Pollution Control Authority.
"The plant should at least be able to function to some extent," she said. At a minimum, it should have enough generator power to run pumps that can push the water, even if only partially treated, out into local waterways.
In New Jersey, The Bergen Record reported on Thursday (Nov. 1), that a New Jersey wastewater treatment plant was pumping millions of gallons of untreated wastewater into the Newark Bay, because the plant had insufficient power to pump out tunnels inundated during the storm. Gas-powered generators at the plant were providing just enough power to continue pushing the wastewater out of the system, according to the report.
Editor's Note: This story was updated on Monday at 3:45 pm E.T. to correct an error in the names of two crematories in this story. The Fresh Pond Crematory and the Cape May County Crematory were both incorrectly described as crematoriums.
Follow Live Science on Twitter @livescience. We're also on Facebook & Google+.
Stay up to date on the latest science news by signing up for our Essentials newsletter.
Wynne was a reporter at The Stamford Advocate. She has interned at Discover magazine and has freelanced for The New York Times and Scientific American's web site. She has a masters in journalism from Columbia University and a bachelor's degree in biology from the University of Utah.