What You Should Be Telling Your Kids About Money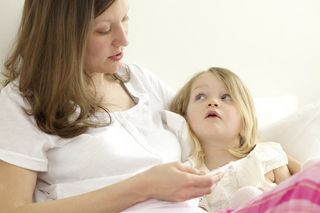 (Image credit: Parent Talking to Child Image via <a href=" http://www.shutterstock.com">Shutterstock</a> )
Parents aren't doing a good job of talking with their kids about money. New research has found that parents are more likely to talk to their children about having good manners and getting good grades than they are about having good savings habits.
The study found that parents felt that talking about the benefits of good eating habits, getting good grades and the dangers of drugs, alcohol and smoking were all more important than talking to their children about money. Additionally, parents generally wait until children are age 10 or older before having the first conversations about money and savings.
"Based on our findings, parents seem more concerned about the politeness of their children than their financial fitness," said Ernie Almonte, CPA, vice chair of the American Institute of Certified Public Accountants' National CPA Financial Literacy Commission, which conducted the research. "Dollars and cents should get the same attention as 'please' and 'thank you' at home. Financial education builds critical skills that help put life goals within reach and strengthen the economy. Parents must make financial lessons a priority in both conversation and action as early as possible."
[Want to Start a Business? 10 Signs You've Got What It Takes]
Despite the importance of saving and talking about money, 30 percent of parents said they never or rarely talk about money with their kids. Even fewer parents, 13 percent, said they talk about financial matters on a daily basis. This lack of conversation, however, does not come from a place of ignorance; the research found that 67 percent of parents felt they know enough about money and finances to teach their children about saving.
Start early- Money conversations should start as soon as children show an interest in money or begin to ask questions related to money and saving, the AICPA says.
Speak in their terms- Parents can effectively show their children the importance of money and savings by taking moments to teach them in a way they can understand. For example, parents can teach their children by making them save up to purchase a toy or clothes rather than just buying it for them.
Repeat often- Parents should talk about money and savings in a way that informs their children. For example, talk about the family vacation and how the family will save for it, the AICPA says.
Walk the talk- Most importantly, parents must set a good example for their children in order for them to truly get and understand savings.
"As important as teaching your kids about money is making sure you are teaching them the right lessons," Almonte said. "It never hurts to brush up on the basics. It is not uncommon in my work as a CPA to come across financial misunderstandings that people have held onto for decades."
The information in this research was based on the responses of 1,006 adults. The research was conducted by Harris Interactive for the AICPA, the world's largest association representing the accounting profession.
This story was provided by BusinessNewsDaily, a sister site to LiveScience. Follow David Mielach on Twitter @D_M89 or BusinessNewsDaily @bndarticles. We're also on Facebook & Google+.
Stay up to date on the latest science news by signing up for our Essentials newsletter.