Sakurajima Volcano Erupts, Showers a Town in Ash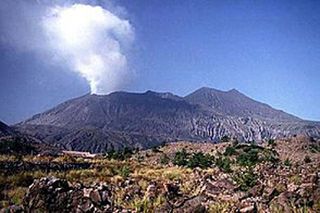 (Image credit: Global Volcanism Program)
This article was provided by AccuWeather.com.
Sakurajima Volcano, located on Kagoshima Bay in Kyushu, the southwestern island of Japan, has been erupting for at least a week.
According to the Japan Meteorological Agency (JMA), one of the eruptions on Tuesday showered Kagoshima City in ash. The volcano is located just 5 miles east of Kagoshima.
YouTube videos showed clean-up of thin ash fall on city streets and sidewalks, while people wore face masks to shield against airborne dust.
Volcanic ash is irritating to eyes and lungs and can cause breathing difficulty.
"The blasts, while apparently powerful, gave rise to relatively small columns of ash, according to video," AccuWeather Expert Senior Meteorologist Jim Andrews said.
Weather observations taken at Kagoshima Airport showed airborne ash, or at least visible ash clouds in the area, beginning Thursday morning, local time, or Wednesday afternoon EDT. This indicates that the eruption may have been continuing on Thursday.
Pilots observed ash clouds to 8,000-12,000 feet on July 24, 2012, according to the JMA and Tokyo Volcanic Ash Advisory Center (VAAC). Volcanic ash is notorious for disrupting air travel, but it is not clear to what extent air traffic was impacted in the area.
The BBC reports that trains were delayed and some roads were closed due to falling ash.
Winds will primarily be out of the south and east through the rest of the week, meaning that more ash fall is possible in Kagoshima City.
Ash fall can have impacts on the weather by darkening the sky and lowering daytime temperatures.
AccuWeather Expert Senior Meteorologist Jim Andrews contributed to the content of this story.
© AccuWeather.com. All rights reserved. More from AccuWeather.com.
With much of the country experiencing an unseasonably warm winter, fears of climate change come to mind. See how well you understand recent weather, climate and the difference between them.
Weather vs. Climate Change: Test Yourself
Stay up to date on the latest science news by signing up for our Essentials newsletter.