Big Pig-Like Beast Discovered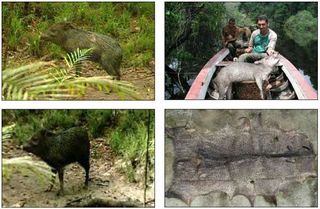 A new species of pig-like mammal called a peccary has been discovered in the southeastern Amazon region of Brazil, a scientist announced today. It is the largest peccary in the world, about the size of a large dog. The newly named beast (Pecari maximus) was found in the basin of the Rio Aripuanã and confirmed to be a distinct species via a genetic analysis conducted by the Leiden Centre for Environmental Sciences in the Netherlands. Though new to science, locals already knew about the creature. Tupi Indians called it Caitetu Munde, which means "great peccary which lives in pairs." Dutch biologist Marc van Roosmalen of the University of Leiden recently was doing some field surveys in the area and saw the unusual mammal. "One day I was looking at some monkeys, and I saw three peccaries pass in front of me totally silent," van Roosmalen told LiveScience. "They appeared and then disappeared without making any noise." "Later, I asked the locals what I had seen," he said. "It shows that you really have to see things and then ask people what you've seen. They are not going to tell you otherwise. It's normal to them. It turns out to be their most hunted animal." The new finding was published in the Oct. 29 issue of the journal Bonner zoologische Beitrage. Peccaries are hoofed animals closely related to swine and hippopotami. Until now, only three species were known to science—the collared peccary, the white-lipped peccary and the Chaccoan peccary. Measurements of the new peccary's body and skull confirm that the new species is larger than the other peccary species. The giant peccary has longer legs and its fur markings are completely different, van Roosmalen said. The new species also behaves differently from its family members, the white-lipped and collared peccaries. These species are very social and found in large to very large groups (even up to hundreds of individual animals in the case of the white-lipped peccary), while the giant peccary is only found in pairs or in small family groups with one or two offspring. Also, the other peccary types root in the ground for seeds and roots. The giant peccary eats mainly fruit and exhibits little or no rooting behavior. The giant peccary has a gland that is active in other peccary species and used to mark territories as well as each other. However, the new peccary is scentless, van Roosmalen said. "I think it's another adaptation to predation pressure from big cats," he said. "Through evolution, they cannot afford to be so stinky as the other ones." The habitat of the giant peccary is limited to dry wooded areas in a small region of the basin of the Rio Aripuanã. The researchers therefore expect the giant peccary population to be small and recommend that this new species should be placed on the Red List of threatened species of the International Union for Conservation of Nature and Natural Resources (IUCN).
Amazing Animal Abilities
World's Biggest Beasts
Stay up to date on the latest science news by signing up for our Essentials newsletter.
Robin Lloyd was a senior editor at Space.com and Live Science from 2007 to 2009. She holds a B.A. degree in sociology from Smith College and a Ph.D. and M.A. degree in sociology from the University of California at Santa Barbara. She is currently a freelance science writer based in New York City and a contributing editor at Scientific American, as well as an adjunct professor at New York University's Science, Health and Environmental Reporting Program.