Rumbling Alaskan Volcano Prompts Warning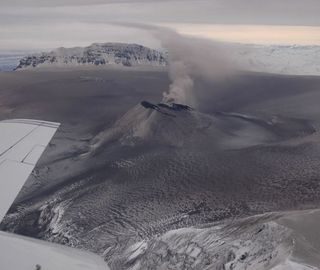 (Image credit: AVO/USGS, Dave Schneider)
ANCHORAGE, Alaska (AP) -- Volcanic rumblings at Mount Spurr are creating hazardous conditions for extreme skiers, snowboarders and pilots landing in the area, the Alaska Volcano Observatory said Friday.
Possible dangers include unstable snow and ice, higher concentrations of potentially lethal gases and acidic water that could be strong enough to burn skin, observatory officials said. Heightened seismic activity has been recorded there for months.
New measurements taken during flights over the volcano this week show the presence of sulfur dioxide, indicating activity stemming from molten lava, not simply heating of ground water, said Tom Murray, a scientist with the U.S. Geological Survey who works at the observatory's Anchorage office. Carbon dioxide also has been detected.
During the flyovers, researchers also spotted water at a summit lake bubbling up -- either from increasing heat or gases floating to the top, Murray said.
"We just want people to know this is not a normal mountain,'' Murray said. "They need to be thinking beyond the normal rules. Climbing is already inherently risky as it is.''
The observatory's current level of concern is yellow, signifying activity as "restless.''
Only a handful people actually tackle Mount Spurr, but observatory officials wanted to get the word out about possible dangers on the mountain about 80 miles west of Anchorage.
"We don't know how much of a hazard is out there,'' Murray said. "We just want to make sure people are aware of the possibilities so they're not caught unaware.''
One of the concerns is that the higher heat has created melt holes, including a giant hole found last year. Observatory scientists worry there may also be holes hidden by thin crusts of snow or ice.
Scientists also warned that higher concentrations of volcanic gases can be deadly. Carbon dioxide is particularly worrisome because it is heavier than air and can collect in low-lying areas. It also can accumulate in the snow pack.
Volcanic gases may also dissolve to dangerous levels. The summit lake is likely acidic enough to burn.
"We just thought conditions have reached a point where being there could become hazardous,'' Murray said. "We've seen enough of a change to lead us to put a warning out.''
Stay up to date on the latest science news by signing up for our Essentials newsletter.