Stop! Service to Help Cut Holiday Catalogs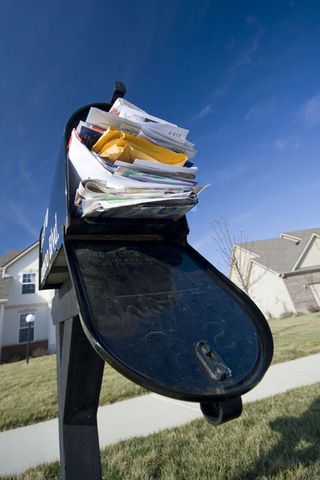 (Image credit: Dreamstime.com)
If a mailbox crammed with glossy mail-order catalog "bricks" makes you cringe, take heart: A new, free service could help you give them the boot this holiday season.
Environmental organizations have developed an online service called Catalog Choice, which allows users to opt out of receiving catalogs they don't want, developers said. Organizers said the goal is to help people—and companies—reduce their environmental footprints.
"Every day, millions of unwanted catalogs clog consumers' mailboxes and are immediately tossed in the trash," said Laura Hickey, senior director for Global Warming Education at the National Wildlife Federation (NWF), which helped organize the service. "They are overflowing municipal waste systems, devouring precious natural resources and contributing to pollution and global warming."
The service is free, unlike some other "do not mail" lists, Hickey said, and users can submit new catalog titles to a database already containing 11,000 of them.
Tree-munching mail
About 19 billion catalogs are mailed to American consumers each year, according to a Catalog Choice statement. The service used Environmental Defense's paper waste calculator to measure that annual impact:
53 million trees, or about 3.6 million tons (3.3 billion kilograms) of paper
enough power to supply 1.2 million homes (38 trillion BTUs) for one year
5.2 million tons (4.7 billion kilograms) of carbon dioxide emissions—the annual emissions of two million cars
53 billion gallons (200 billion liters) of waste water, enough to fill 81,000 Olympic-sized swimming pools.
"Anyone who has tried to get their name removed from a mailing list knows the process can fuel frustration," says Martin Bourque, executive director of the Ecology Center. "We believe that opting out of a mail-order catalog should be as easy as it is to make the purchase."
'Good for business'
Industry experts think the service will be good for catalog-mailing businesses, as well as consumers and the environment.
"This free service will help catalogers … remove non-responsive consumers from their lists and reduce expenses associated with paper, printing and postage," said Al Bessin, a consulting partner with Lenser, a direct mail and marketing firm based in San Rafael, Calif.
To design, produce and send out the billions of catalags, said Catalog Choice spokesperson April Smith, it costs merchants about $13.3 billion annually.
To stop receiving specific catalogs, Smith noted that users need a customer number found on each catalog they receive to make the process work. Merchants can also sign up for an account—once their identities are strictly verified—to make the entire process less tedious, Smith said.
"We've tried to make it as easy as possible for catalogers to work with us," Smith told LiveScience.com, noting that merchants only have access to user information submitted to them for removal. "Our team is confident that all security precautions have been taken to ensure the privacy of our users as well as the safety of the data they have provided Catalog Choice."
The NWF joined up with the Natural Resources Defense Council in New York City and the Ecology Center in Berkeley, Calif., to launch CatalogChoice.org. The service is funded by the Overbrook Foundation in New York City, an anonymous donor known as the Kendeda Fund and the Merck Family Fund in Milton, Mass.
VIDEO: Goldilocks and the Greenhouse
QUIZ: What's Your Environmental Footprint?
Stay up to date on the latest science news by signing up for our Essentials newsletter.
Dave Mosher, currently the online director at Popular Science, writes about everything in the science and technology realm, including NASA's robotic spaceflight programs and wacky physics mysteries. He has written for several news outlets in addition to Live Science and Space.com, including: Wired.com, National Geographic News, Scientific American, Simons Foundation and Discover Magazine. When not crafting science-y sentences, Dave dabbles in photography, bikes New York City streets, wrestles with his dog and runs science experiments with his nieces and nephews.